The sudden absence of mid laner Artifact from Team Secret's roster has caused a huge wave of doubt and skepticism in the VCS fan community.
Drama is stirring the community League of Legends Vietnam with stories revolving around Artifact and SBTC Esports. Team Secret's recent match stunned fans by not seeing Artifact in the official lineup. In his place is Hiro02, who switched from Top to Mid. The reason for this change has not yet been revealed, creating curiosity and controversy in the world League of Legends.
Soon after, fans quickly connected the dots to connect Artifact with SBTC Esports' investigation of "semi-drama". Rumors and theories are rampant, suggesting that Artifact may be suffering the consequences of his past negative behavior, when he was a member of SE.
The organizers of VCS and Riot Games are conducting a serious investigation into SE, in order to clarify the facts and verify information about the "semi-drama". The scope of the investigation is expanding, not only to the current membership of the SE but also to the history of the VCS. This makes the question of Artifact and drama SE difficult to be forgotten.
>>See more: League of Legends: Despite Uzi, EDG still hasn't been able to get any significant achievements
Although there is no official information from the parties involved, it cannot be denied that the tension and anticipation is overwhelming in the Vietnamese LoL community. Fans expect official answers and information from Team Secret, VCS and Riot Games about this situation.
Meanwhile, Team Secret has made changes to its roster by adding a young mid laner, Aress. This can be seen as a necessary measure if Artifact is unable to continue playing, while Hiro02 will return to the top lane position. However, all the current information is just rumors and theories, and we need to wait for official information from VCS or follow Team Secret's lineup for the next week to confirm the truth.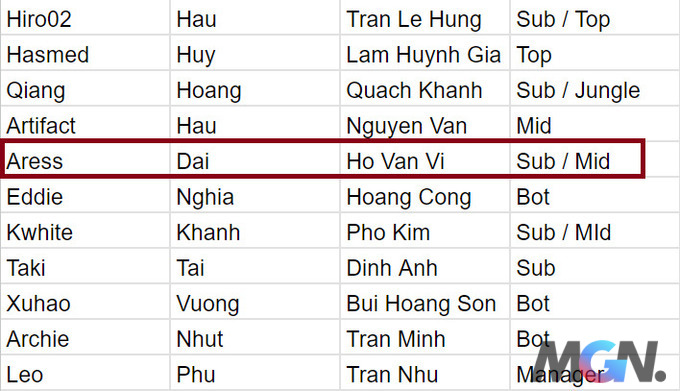 In the current situation, the investigation into SE and related rumors is continuing, and transparency and fairness are required to make accurate decisions and conclusions. Fans and community League of Legends Vietnam hopes that the relevant parties will provide official information and answers to maintain the fairness and honor of the tournament. Follow MGN.vn to update the latest information!