Although League of Legends has no shortage of minor bugs, there are a few bugs that affect the game so badly that Riot Games has to fix it urgently.
As you all know, after every update of League of Legends with countless small and big tweaks, it is inevitable that there will be some strange interactions from time to time, so a Youtuber specializing in creating content about errors can named Vandiril was born to help people be more aware of these minor errors in League of Legends.
This time, in the current update, there is a weird game bug with the Biscuit (when you get the Inspiration gem and choose Cookie Delivery, you will get this cake in the game). Specifically, if the player clicks on selling Biscuit and then undoes it, doing this action repeatedly, their energy will continuously increase, and can even increase indefinitely.
After witnessing this bug, Riot Games immediately issued a statement that it will be adjusted soon, and as soon as maybe 1-2 days it will be fixed.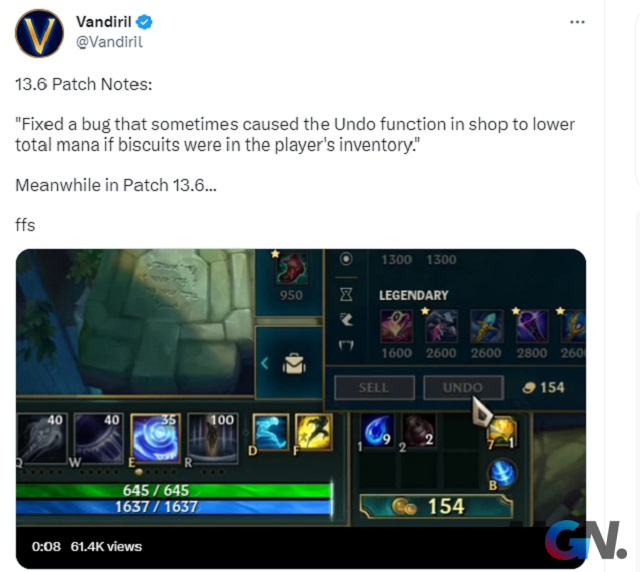 This bug was possible in the LoL 13.6 update, because Riot Games made some adjustments to the player's overall mana to fix the mana drop if they undo a trade with Biscuit , surely Riot Games will go from having players sell or undo items when they have cookies in them. Because after experimenting with other items this interaction did not happen, and only when there are cookies does this error occur, so the problem is definitely with this Cookie, so the developer Just stick to it and fix it.
This error is not the first time, but not long ago, League of Legends players discovered a similar error that occurs between the new Yuumi and the Tears of Goddess equipment, specifically you just need to attach and detach. out of an ally owning this item many times, it will be stacked for free. While these stacks don't provide any pure extra stats, it does give players a huge amount of mana during the laning phase, giving them the freedom to spam their moves without worrying about mana consumption.
SEE ALSO: League of Legends: New gamers find a new area in ARAM – the wall behind the tower
While this energy fix has yet to be officially rolled out by Riot in the League of Legends live servers, perhaps soon we will see the game back intact.
Don't forget to follow MGN.vn every day to update more interesting information about League of Legends you guys.