The MSI 2023 season has started for more than a week with a lot of interesting gameplay, but the two national ADCs of this League of Legends tournament are quite exhausted.
Each season of League of Legends we can see a lot of different champions ascending the throne, but talking about the ADC class of the big leagues, Zeri and Jinx are still two names that people pay attention to. most mean. But not always, it seems that after the disastrous 'nerf' of Riot Games in previous versions, these two names have received a series of catastrophic failures in this MSI 2023.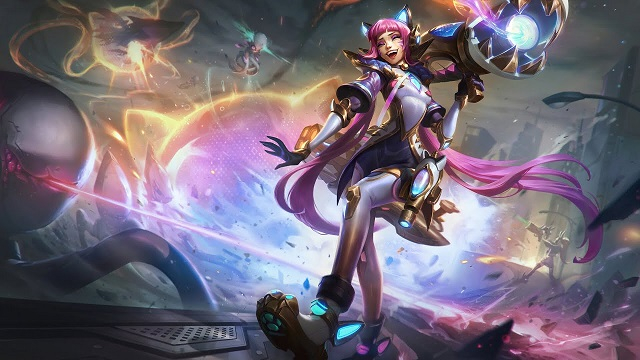 That's an unfortunate result Jinx and what are facing at MSI 2023. These two ADCs are receiving 8 consecutive losses each time they start and the win rate is below average – 46.7% and 33.3% respectively (according to professional league stats tracking page League of Legends – Gol.gg). Despite being picked and locked by the world's top ADC players like Yutapon from DFM and Hans sama from G2 Esports, these two champions did not do anything.
MORE: Players enjoy the new tower defense game, which is a combination of League of Legends and World of Warcraft
The AD carry champion is gradually returning to the meta MSI 2023 This time it is Aphelios, who is dominating the AD carry meta at MSI 2023 with 12 wins and a win rate of 66.7%.
For multiplayer League of Legends, Aphelios is a rather difficult champion to control due to his combos offering different weapons. Requires gamers to approach and learn him for a very long time to be able to understand. Aphelios worked effectively and won a spectacular victory in the hands of two players Gumayusi of T1 and Wako of PSG Talon.
However, with such a complex skill set in general, in the single ranked environment of League of Legends, Aphelios always has a 'bottom' win rate – 8.2%. Lose far Jinx, champions are picked continuously and account for up to 1/4 of the rank matches at each rank in the Summoner's Rift arena.
Although Jinx is still widely abused, but Zeri does not have the same favor as before, although still being brought to the international stage, but Zeri does not prove his bombardment, Perhaps the nerf wound in version 13.7 that Riot gave to female ADC was too big, causing Zeri to gradually disappear in this meta.
The next round of the tournament will take place on May 12 and hopefully can see the two generals Jinx and Zeri draw the same legend as they did in previous seasons.
Don't forget to follow MGN.vn to update more interesting information about League of Legends Please!