Syndra's 'post-rework' skill set is becoming too buggy, which could cause this card to deal extremely large amounts of damage in future League of Legends.
Syndra is a very popular mid laner mage general and is trusted by mid lane gamers, so she often participates in big tournaments and ranked and professional matches.
But .'s skill set Syndra considered quite outdated, Riot Games decided to completely improve his skills Syndra by delivering a mid-range update to the Dark Queen. Thereby, the skill set of Syndra will be slightly changed to suit and be more powerful with the current LoL meta.
After a mid-range update, this card is back in the arena League of Legends in a very spectacular way and caused an extremely sharp breakthrough in the win rate. In particular, the completely changed passive will help this champion become infinitely explosive in the situation of the 'late game' stage.
MORE: League of Legends: T1 invites each other to play Valorant after losing at Worlds 2022
League of Legends players have commented on the new changes of Syndra that were released that she is likely to be very "heavy" in the near future. Because the upgrade ability of the skill R – Explosion of Power when reaching 100 Fragments of Wrath of the Dark Queen along with the ability to kill enemies below 15% Health is extremely powerful, it may help Syndra bomb 's champion rankings League of Legends in the next version.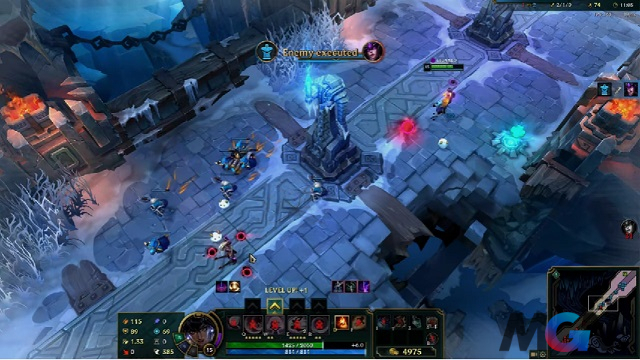 Not only that, the holy bug Vandiril has continuously revealed many strange bugs related to the new skill set of Syndra, from being able to kill himself to being able to 'change' Sion's R direction made the online community stir, in the next clip, Syndra even 'ruined' Olaf's R – one of the skills that is said to be unstoppable. Next is Rammus, and Yone, who is constantly being swept away by Syndra paralyzing, even if the enemy wanted to capture her, they would be powerless.
Most recently, 's E skill Syndra was 'spoiled' extremely strongly, specifically, after Syndra had completed Sweeping the Weak, the players around after 2 seconds were still 'hit'. We can see in the clip above, Nami is not standing in the surrounding area of ​​influence, but just getting close to it is suddenly 'shocked'. Vandiril immediately tried again in a custom match, when she finished casting her E, Nilah stood a fair distance away from the orb, but it suddenly exploded and damaged and stuns her, this made the player himself and the player exclaim: "Sometimes I can't understand this game!"
For these reasons, players recommend Riot Games to give Syndra a hot edit
Hopefully Riot Games will quickly adjust it properly, avoiding the 'out of control' hegemony once again on a champion who has just been 'reworked'. Thank you and don't forget to follow MGN.vn to update the latest information about League of Legends nha.