A League of Legends player made a very profound joke with general Amumu, turning this general into a lonely character exactly like in his storyline.
As its name suggests, Amumu In League of Legends, he always appears in the form of a lonely 'Sad Mummy'. The story of this general has fascinated many gamers League of Legends sympathy and pity for the boy. However, for players who are excited and come to the game for entertainment, they will always have their own 'oh my god' paths.
Recently, a gamer named Sevadarostam made a very silly joke with the general Amumu. However, to do this, he had to spend up to 6 years to succeed.
Specifically, the guy turned Amumu Become a lonely character according to your storyline by leaving this champion in the store, as the last character not yet 'unlocked' out of a total of 164 champions added to the cart. Making Amumu a lonely character with no one to 'pick' like his sad dialogue in the game.
SEE MORE: League of Legends: VCS champion, GAM is still criticized by fans for being foolish
Sewadarostam then posted this article on Reddit and shared about his journey when making this silly joke. After 6 long years, he finally bought all the champions, and also wanted to make this 'joke' video.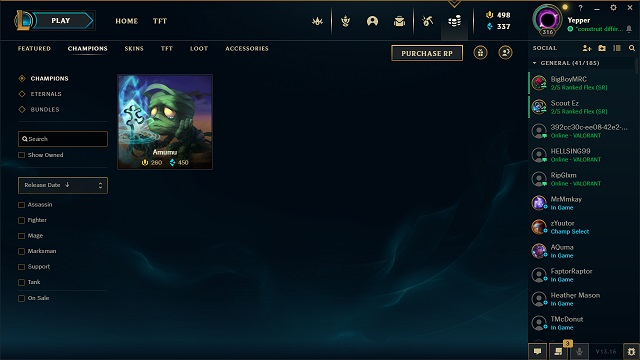 It can be seen that this guy came League of Legends for a completely different purpose. Don't climb ranks, collect costumes, or level up like other players. But simply want to make a joke for myself, create 'joke' content to create laughter for others.

Faced with this teasing, many people think that this hobby of his is a bit 'cruel' and callous towards such a lovely general. Therefore, they convinced him to buy this champion by explaining Amumu's usefulness and fighting power in the game. Even Rioter HunterFork, after looking at the picture this player posted, had to send RP points to this user so he could buy it. Amumu, End this general's loneliness.
Even Riot had to intervene and advise the young man to end this general's loneliness
Maybe after unlocking Amumu, this gamer will see that not letting this boy be lonely is the right thing to do. Because Amumu's power in Summoner's Rift is not average, in ARAM it is even more powerful.
Don't forget to follow MGN.vn to update more new information about League of Legends guys!