Riot Games introduced the pre-season voting feature, but League of Legends players are finding this mechanism too annoying.
The 2023 Pre-Season Update has officially arrived League of Legends with lots of big and small changes. In addition to redoing the ping system, plant map, the father of League of Legends also found that the interaction between players is also relatively necessary, so he launched a voting system to eat Dragon, Baron. .
New system this time Riot Games want to bring that is vote eating target (Dragon, Baron, Herald). Since developers as well as gamers feel that it is difficult to cooperate with each other in cases like this, understanding each other's intentions is a problem, so it is not possible to call Dragon in times of urgency and because of that, disputes, quarrels, game breaking…
With this change, we can see Riot Games are putting a lot of effort into developing the game League of Legends perfect and better every day. However, this new mechanism makes gamers feel very uncomfortable and annoying after only a few days of being released.
Specifically, this mechanism allows players in the team to create polls every time an important goal appears on the map. Thereby gamers can choose to vote whether to participate in the goal or not, if there is no consensus vote, the jungler can easily understand that they should ignore this goal, even though this feature helps. for players to be able to communicate better with each other, however, causing some people to abuse it too much, causing discomfort to teammates by continuously creating meaningless and unnecessary votes.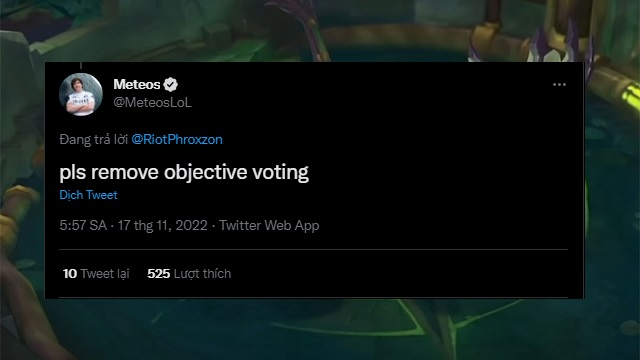 For the players League of Legends For many years, they will often zoom in on the screen to better see the small map system as well as the pings of their teammates. Therefore, they will feel annoyed if the voting board keeps appearing on the map, especially when they are trying to hold their position seriously, this voting board keeps showing up and not Is there any way to turn it off other than voting which will make players very distracted and frustrated, they will not be able to focus clearly on their goals – the main staples like ADC or Mid.
SEE ALSO: League of Legends: Top 5 easy-to-play generals, suitable for beginners
Furthermore, the longtime Junglers in League of Legends also shared that, goals like Dragon, Herald at the beginning of the game will be 'self-reliant' by the jungler, except in cases where the dispute is too big to need Team Support, if without dispute, this voting system is quite useless, because season 12 has so many changes to Dragons, players always see the obvious importance of these goals and always take the time to control them .
We cannot know whether Riot Games whether to remove this feature or not, but if you intend to keep it Riot Games should make appropriate adjustments to avoid negatively affecting gamers in the future.
Don't forget to follow MGN.vn to update the latest information about League of Legends Please!