We are about to see a brand new Neeko in patch 13.9 along with Jinx's serious 'drop' in League of Legends in the near future.
Every two weeks, Riot Games will release a preview of the following update of League of Legends. Recently, the publisher released a preview of 13.9 with all the faces that will be changed. With 11 generals will be directly buffed in the upcoming version, including 5 buffed champions, 2 nerfed champions and 4 other champions with skill sets adjusted.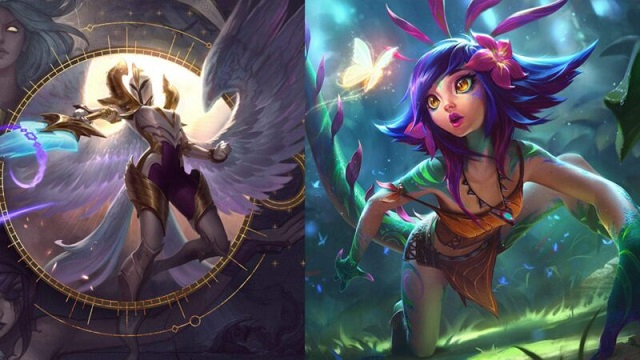 On the official Twitter account of the development team League of Legends, The biggest changes coming in Patch 13.9 will be applied to Neeko and Kayle, these two champions will be completely revised in the way their ultimate works. Kayle's Spirit of Determination (R) has been adjusted, casting time drastically reduced to 0.5 seconds from 1.5 seconds. Also, to keep the animation, Area Damage increased from 1.5 to 2.5 seconds. This is a positive change for Kayle that she can now use God of Determination more smoothly in fierce fights.
Neeko will have a mid-range update in the near future like what Riot Games revealed a long time ago, and the official rework of this champion will be released in League of Legends 13.9. Neeko in the new skill set will have more flexible mechanics, can transform into things other than champions, one of which must be minions and jungle monsters, most objects can interact. other in Summoner's Rift.
MORE: League of Legends: Ashe's 'super poke' gameplay continues to be nerfed, but this time in ARAM
Taliyah is another champion to receive changes in the next patch, another face that also has the skill set edited is Bel'Veth, but the specific changes have not been revealed yet.
And the two champions that will be nerfed directly in the next update are Sion and Jinx. Jinx is the most popular champion in the game at Patch 13.8, with a pick rate of 26.6% at all levels, 5% higher than Ezreal who is holding the 2nd place right behind her. From Platinum level up, Jinx's pick rate increases to more than 30% with a win rate ranging over 51% (according to U.GG's stats page).
League of Legends Version 13.9 is expected to be released on May 3, don't forget to follow MGN.vn every day to update more interesting information about League of Legends you guys.