With the recent changes in update 13.7, Katarina is one of the champions once again proving that Riot 'makes music better than makes games'.
In this LoL 13.7 update, there are a number of champions that will receive a buff and among them is Katarina. It is known that this time Riot Games' changes to general Katarina are aimed at bringing her back to her true role as an AP assassin with the familiar Electric Shock gameplay instead of bringing Conquer with the gladiator build. popular in recent versions. It's not wrong to power up a champion for the purpose of bringing that character back to his role, but it seems that Riot Games "accidentally" made Katarina too strong in the current version. in.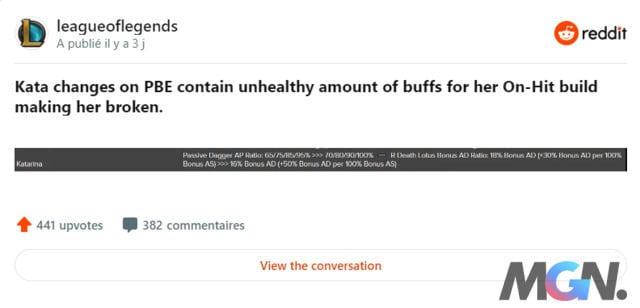 Specifically, Riot Games has made drastic changes to Katarina's Passive (P) and Ultimate Skill (Ultimate – R). Accordingly, Katarina's Passive will now increase her bonus ability power ratio, along with her attack damage ratio and increase the attack speed based power ratio on Ultimate Skill by Katarina. These changes are clearly gearing towards Katarina's previous AP assassin gameplay with Attack Speed ​​that Riot is aiming for.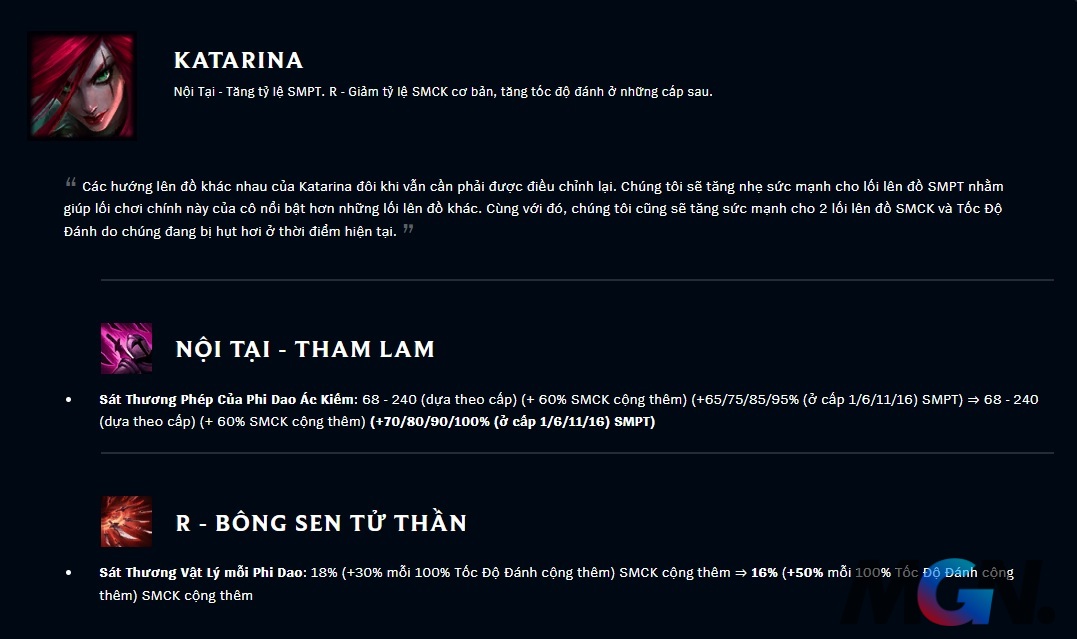 Katarina is already well known as an assassin who has the ability to one-shot her enemies. But the recent changes to tank items have allowed Katarina to diversify her one-shot play, becoming a fighter with good resistance, damage is still guaranteed and capable better proactive ability to open combat.
Maybe because they realized that Katarina's role is gradually deviating from the original role orientation of Riot Games, so they decided to bring this assassin girl back to her right trajectory, but it seems that plan has been 'overdone', making Katarina extremely 'faulty' in the current version.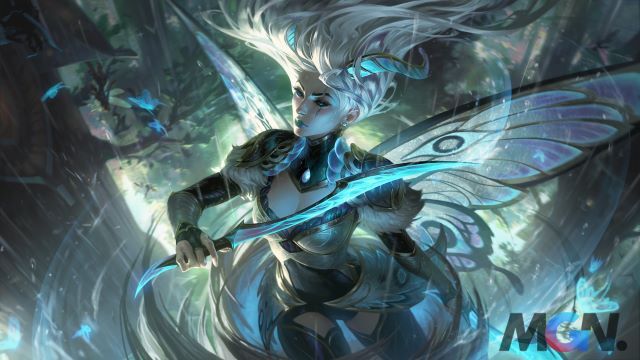 Currently, many players' favorite gear up for this assassin from Noxus is: Monster Slayer Hook, Sword of Doom, Rage Shoe, Purple Knife, Soul Scythe (or Dominik's Crossbow) and Crazy Knife.
>> MORE: League of Legends: Top 5 super strong generals to help you climb the 'invincible' rank in version 13.7
The purpose of this build is to still ensure the damage output from the bonus attack power to the attack speed and a little more resistance so that Katarina can still ensure the ability to deal damage. The true quality of an assassin can still go in and out of combat without fear of shock damage.
In your opinion, is this move of Riot Games the right one or will it cause the game to be unbalanced again and then have to nerf again? Don't forget to follow MGN.vn to update the latest news about League of Legends right now!