Version 13.9 of League of Legends has just been released, Riot Games has just fixed a game bug for Lee Sin, but accidentally caused him to have another more serious problem.
Riot Games released version 13.9 of League of Legends on May 3. In addition to the stat changes for champions, the publisher also made a few more bug fixes. The fix should have been made to improve the absurd interactions of champions in Summoner's Riftbut this time it backfired, causing one of the most important skills of general Lee Sin – Warding the Protector to be severely delayed.
The development team fixed a bug made by Lee Sin when he used shields on an enemy or something that was defeated. This bug was accidentally 'checked' by YouTubers who specialize in League of Legends discovered in the previous patch.
On May 3, a user on Reddit shared that Lee Sin's fix this time accidentally disabled his ability to 'ward ward', meaning that now players can't ward ward and protect them immediately, but have to wait for approx. seconds or very long, this delay has a huge effect on Lee Sin players and the 'main Lee Sin' players in the game. League of Legends, because their play in teamfights is largely decided based on these skill situations.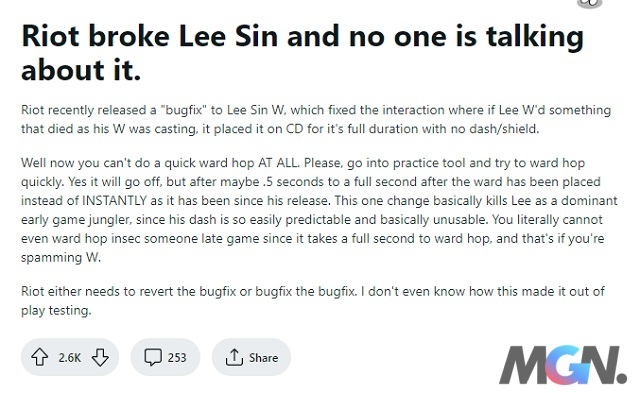 From the perspective of Jungle players, the slow response of the skill will make them feel extremely cumbersome, the enemy will be able to easily catch Lee Sin if he is not flexible, specifically easy. It was easy to see where he was going to put his eyes. And if the Guardian takes too long to execute, it will lead to the delay of the phases Insec, because gamers only focus on 'spam W' and wait for it to work, sometimes they will not have time to react but press R by inertia.
SEE ALSO: League of Legends: See the picturesque beauty of Lady Light Lux sketched by AI
Vietnamese gamers are also extremely surprised and confused with Lee Sin's current bug
Player Reddit This guy shared that he is a true 'main' Lee Sin himself, with hundreds of thousands of mastery points he spent a lot of time in the gym testing this issue. And after noticing the obvious delay of Lee Sin's W combo, he shared it on his personal page.
Hopefully Riot will fix this in the near future, because the 'pick' of this champion in the game is extremely high. And given the skill set issue that dragged Lee Sin's win rate down to 47% at all ranks (U.GG), this is a sad thing for a national champion like this.
Don't forget to follow MGN.vn to update more new information about League of Legends Please!