Player Palette is one of the rare members who have been declared clean of SBTC, now he is no longer tied to SBTC and has been allowed to join another League of Legends team.
As we all know, after a while of investigating the team's half-fixing case SBTC Sport Then the VCS organizers announced that Palette is one of the rare members to be declared clean and will have the suspension penalties that are originally for the whole team. SBTC last time. Present Palette is considered a free player and is allowed to negotiate to join any other League of Legends team, with the previous level and massive achievement list, there will certainly be many teams that want to invite. Palette about the team.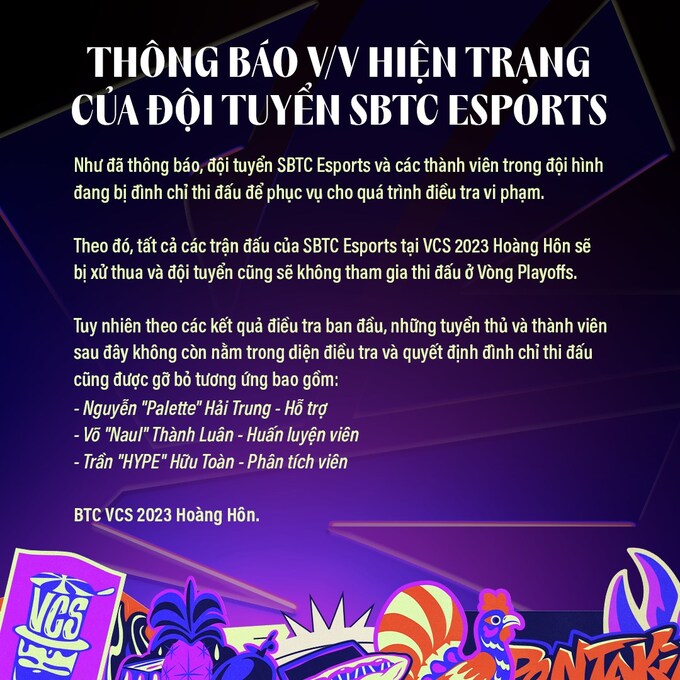 Recently Palette(Nguyen Hai Trung) posted on his personal page a picture that implied that he had found a new team, escaped unemployment recently, but this player did not officially announce the identity of the new team, this is still a mystery to VCS fans.
At the same time that Palette Posting the photo above, no team at VCS has announced that a new player has joined the team. However, according to some sources, Palette's new team is likely to be the defending champion GAM Sportsby on the system Global Contract Database(Riot's transfer database system) has changed, specifically the name of Palette has been added to the player list of GAM Sports.
Thereby many possibilities Palette will meet again Slider in GAM Sports, creating an extremely strong bot lane duo at VCS. In the past Palette also played for GAM Sports in the spring of 2020 and won the runner-up VCSif this support guy rejoins the black gold team then surely GAM Sports It will be like a tiger with more wings, duo Slider and Palette played very well in the colors of Team Flash and SBTC, notably winning the 2020 VCS Summer Championship, Even if it weren't for the team's suspected match-fixing incident. SBTC then the couple Slider and Palette was a member of the national team of League of Legends competing in Asiad.
Currently, there is no official information from the GAM Sports so we'll need to keep an eye on the next news, hopefully Palette will succeed in the new shirt. Follow MGN for more exciting news updates.