The 'unstoppable' tank Malphite is being too OP recently, but is not being 'souled' in version 13.7 of League of Legends.
Before the MSI 2023 tournament is about to start, the next two updates 13.7 and 13.8 of League of Legends will play a very important role in the meta of the tournament. In this version, the adjustments of the generals will help rebalance the game, those who are too strong will be reduced, those who are weak will be buffed, bringing faces with bad fate to the incense for players to feel comfortable. select.
League of Legends Version 13.7 released on April 5 is expected to have a lot of important tweaks. Zeri, Thresh, Alistar, Azir and Kalista are the most mentioned names. Annie has dominated the arena of justice with Howling Abyss for too long, so it will be officially 'hammered' soon, Riot Games will no longer give in to champions with too high win rates in all roles.
SEE ALSO: League of Legends: Riot is about to return Katarina's shock damage gameplay like the old days
In the list of changes this time, players strongly agree with the nerfs, but there is a name that is missing. League of Legends consider it necessary. This is the tank that is destroying the Top lane with a 53% win rate across all ranks.
That general is none other than the rock Malphite, after getting a buff on W in patch 13.4 of League of Legends and a rework of Barbed Shoe in 13.5, Malphite is almost immortal with a towering win and ban rate.
After choosing Malphite, players will maximize W, on equipment such as Barbed Shoes and Ice Gloves, choosing the pure rune of the tank champions is Undying Power – which is also power buffed in version 13.5. With only these builds, it's almost impossible for Malphite to be 'destroyed' in every League of Legends skirmish in the late game.
Besides the players who think that Malphite should be reduced, there are others who think that it is okay to not nerf him because this champion is relatively easy to counter.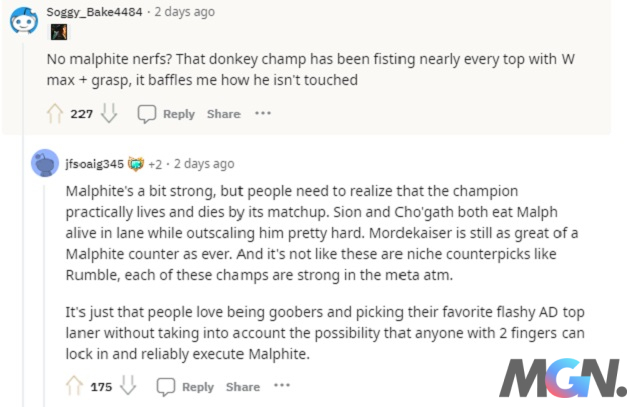 According to the share from experienced gamers, if you want to confront Malphite in the top lane, go for options like Sion, Mordekasier or Cho'Gath or ban him completely until he gets nerfed. These things will not help Malphite cause too much trouble for you.
In the face of calls for power reduction Malphite of players, Riot Games has chosen to remain silent. Whether they decide to reduce or not is still to wait until version 13.8 to know.
Don't forget to follow MGN.vn every day to update more interesting information about League of Legends you guys.