After many leaked rumors about the new skin line at the League of Legends – MSI 2023 tournament, Riot finally revealed the skins that will be present at this event.
Not long ago, leaked images of the line of skins that will appear at MSI were revealed by the prestigious 'leaks' of League of Legends, fans are extremely curious to see which skins it will be. which characters. And no longer keep players waiting, Riot Games recently released new skin themes and characters for the upcoming tournament on its homepage.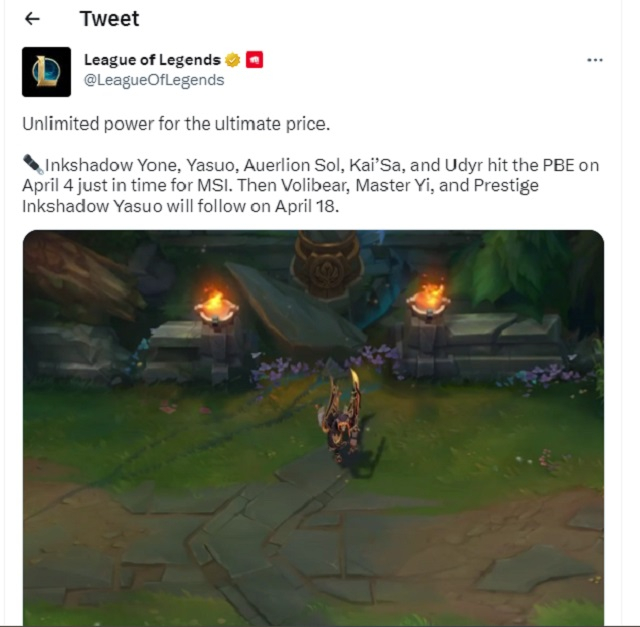 The new skin theme this time is called Inkshadow (roughly translated: Wear Photo), especially in which there will be a Prestige skin for Yasuo – The Unforgiving One at the end of April, the player's favorite champion. Along with 7 different generals that are Udyr, Volibear, Yone, Kai'Sa and Master Yi. True to the names that the saints leak of League of Legends mentioned in the previous leaked video.
The skins of generals Yone, Yasuo, Aurelion Sol, Kai'Sa and Udyr will be released on the PBE test server on April 4. Next to Yasuo, Master Yi and Volibear also received branded skins and will be released on April 18. Master Yi's skin in the Inkshadow theme will be Legendary (Redstone) and will be available for sale for 1820 RP.
MORE: League of Legends: Annie usurps Yuumi in terms of hate rate in the professional arena
It can be seen that Yasuo is an extremely favored face during this time, not only on the list of buffed champions in version 13.7, but about to have a new skin universe for himself. It is expected that players who bring Yasuo to the ranks in the near future will be very crowded.
Not only that, in addition to the above faces, there are also skins for champions like Vayne, Renekton, Nightbringer Jarvan and Nasus with the theme Dawnbringer. However, there is no expected release date for these skins, so players are expected to release them with the themes of the Inkshadow skin line.
Thank you and don't forget to follow MGN.vn every day to update more new news about League of Legends Please!