The configuration of a 10-year-old game like League of Legends has recently been somewhat outdated, so it brings a lot of problems, typically these 'bad jokes' bugs.
The pull, stun, and panic moves are the most annoying skills in League of Legends. It makes most gamers who are not confident about 'dodging' feel shivers. Steam Robot Blitzcrank is the typical face of the above generals, with his Q – Rocket Hand, Blit is a huge panic for gamers in the bot lane.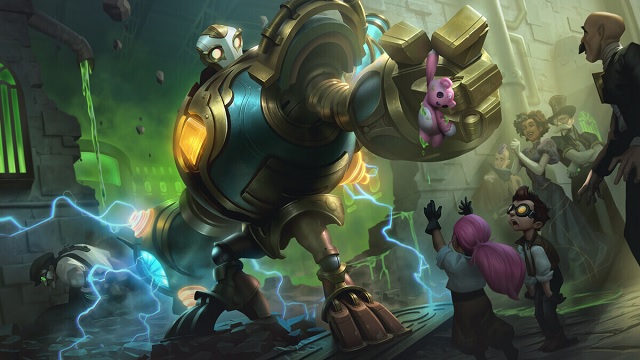 Usually, wanting to avoid the sudden pull of Blitzcrank then you must have a high level and mastery in wriggling, moving, otherwise you have to use Summoner Spells to escape. However, due to some bugs in the classic game of League of Legends in recent times has made dodging … pointless. Specifically, in a recent clip shared by a Reddit user on June 21, there was a situation where Blitzcrank's move failed in the game, making gamers extremely frustrated.
SEE ALSO: League of Legends: Holy 'outplay' your team in the game name these 3 generals
In the video, Blitzcrank doing a pull aimed at the opponent Thresh, however, the Chain Warden used Flash to escape this drag, and unfortunately, a visual glitch occurred that left him still being hit by the pull. This Flash of Thresh not near the drag line, it chained completely to a right corner, but unfortunately Thresh still got hit and discolored after this fight.
The situation was slowed down by the player, this is clearly a very serious game error, because the drag phase was not close to the target position and even Thresh was far out of the drag range and it still hit spectacularly. After 'dissecting' the above situation, some players think that this error does not occur on characters with movement skills like Ezreal. It happens with cases where players use Flash to dodge them.
MORE: League of Legends: Riot hatches a plan to launch a new game mode, expected to launch at the end of the year
Faced with these situations, gamers can only shake their heads in disgust, because they are so used to these annoying 'interactions'. A player named D1ssar also left a joking comment: "There is no way to dodge it without breaking space time." This sentence means that you have to 'turn on hacking' to dodge, because you can only dodge the Q of Blitz, but not the ability to 'dodge' the game error. And because of this bug, Blitz has successfully 'gained' a free net.
This post is currently going viral on Reddit, Players constantly warn Riot not to let it appear in any professional tournament, especially in the LCS region – where there are the most prejudice against publishers.
Don't forget to follow MGN.vn to update more new information about League of Legends nha!