The return of the controversial Yuumi – Zeri bot pair caused a headache for League of Legends developers and had to create another round of nerfs in the next version for them.
what – Yuumi continue to be the explosive bot lane couple in professional tournaments when constantly being played by players LPL and LCK spend together. Fans continue to focus on the Dragon Road meta with the return of these two cards.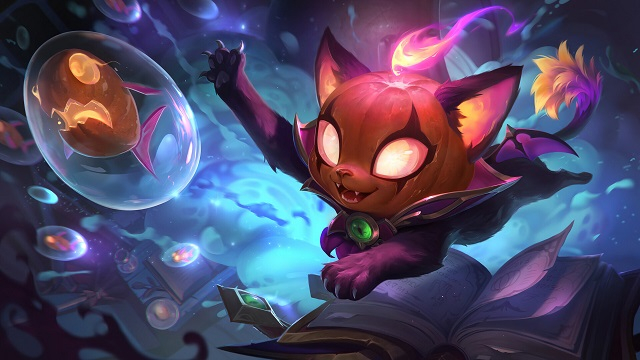 Since its launch in 2019, Yuumi has constantly become an annoying nightmare for League of Legends gamers. And this card proved even more fierce when entering the professional arena, fortunately, by the time of MSI 2023 before, this general had fallen on the banned list because he had just reworked and could not afford to participate. competition. We already know that Riot Games 'rework' Yuumi with the main purpose of making this champion less 'heavy'. But it doesn't seem very promising, when the mechanism that makes Yuumi becoming invincible is that the ability to 'parasite' on teammates is still maintained by the developer.
SEE ALSO: League of Legends: Deciphering the discomfort of picking Rek'Sai Top lane
Not only that, many sub-players dissect the effects of their new skill set Yuumi when interacting with what, The adjustment of Yuumi's E from healing allies to armor has given Gunner Zeri an extra advantage, every time he receives a shield, Zaun's Lightning will benefit greatly. That inadvertently turned them into Lucian – Nami's 'version 2' bot battle pair.
The bot lane meta in the early stages of the Summer Split was clearly seen by players, as were the two cards Nami – Luci that stormed last season, what and Yuumi always chosen by LPL and LCK players, just like that, we can understand how superior their strength is in the high league.
In addition, with the rise of Tam Hop Kiem after the 13.10 change, the Zeri card returned spectacularly with Gladiator gameplay, this meta makes what becomes extremely sturdy, cannot be easily defeated but also gives himself a very high damage output.
Not only in the professional arena, when looking at the win rate of what – Yuumi In the normal singles ranks we can also see, they are ranked S+ – an extremely high unit in the champion rankings. League of Legends. The fact that Yuumi can create armor and slow down the enemy gives Zeri a little more attack power to attack them, in addition, Yuumi's healing ability has not been completely taken away, so if the fight phase is successful. With many advantages, this cat can easily restore a huge amount of health to help Zeri freely rush into the fight without worrying about 'on the counting board' early.
When noticing this, Riot continued to "touch" this pair of bots in version 13.12, I don't know after this update, Yuumi – what whether it's still at the top of the meta or not, let's wait and see!
Don't forget to follow MGN.vn to update more new information about League of Legends Please!