League of Legends has recently been heavily 'cursed' because too many game bugs constantly crop up, greatly disturbing the player's experience time.
Probably, gamers are no stranger to game bugs that are constantly popping up in recent times. Many players have been bored to the point of not touching the rank of League of Legends throughout this new version. It is not known that the publisher Riot Games has taken measures to prevent these things yet.
Players kept coming up with reports of a bug related to Tahm Kench that affected a lot of matches. Specifically, he can use W – Abyss Crusade to travel great distances, possibly going straight from Bottom to Top – this isn't a trivial bug, it's impactful. to the player experience, giving Tahm Kench's team an edge over mediocrity. Riot Games has not taken any action to resolve this error, it is very likely that in a few days Tahm Kench will be 'disabled' if this state continues.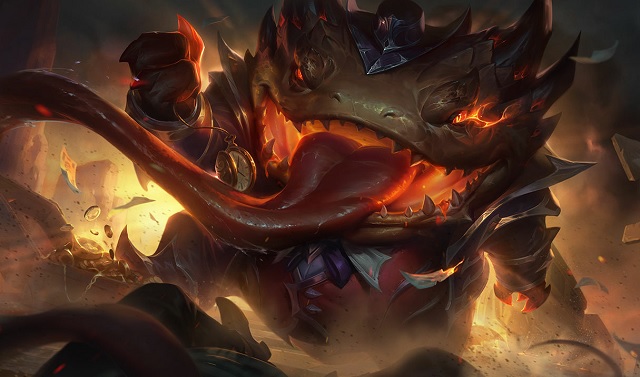 Recently, the holy bug Vandiril released a very 'cool' video about Tahm Kench's error, making players League of Legends I don't know whether to 'laugh or cry'. The clip seems to be a highlight, but no, it's a game bug that is stirring the arena Summoner's Rift made many gamers cry these days. In the clip above, 'catfish' Tahm Kench can be seen abusing this bug to make ganks from level two. With Teleport being nerfed a long time ago, meaning that before 14 minutes you won't be able to go anywhere in the map, and Tahm Kench's bug pops up like a Teleport used before level 14.
Tahm Kench with Kayn the enemy team is having an extremely intense clash, there will be nothing to say if the catfish does not 'swallow' Forest and bring it straight back to the 'Old Stone Platform' at home. This makes Kayn seem 'no way out'. It can be seen that because of a small error like this, it helps some players to die unjustly, being defeated in an 'unfair' way. The more videos like this grow, the more it proves that this game bug is not simple at all, but it is causing a huge negative impact on the game.
SEE ALSO: League of Legends: Players create super weird gameplay with Neeko 'rework'
Players still do not stop asking for help Riot Gamesif they really haven't come up with a solution, they should also 'lock' the champions who encounter this Bug or this tool, because there are a lot of crooks still waiting for these game bugs and tools to pop up to use. Use them to win.
Thank you for following MGN.vn, don't forget to visit our website every day to know the latest information about MGN. League of Legends Please!