These faces have more radiant colors after being reworked, but League of Legends fans are not very satisfied with their appearance.
Janna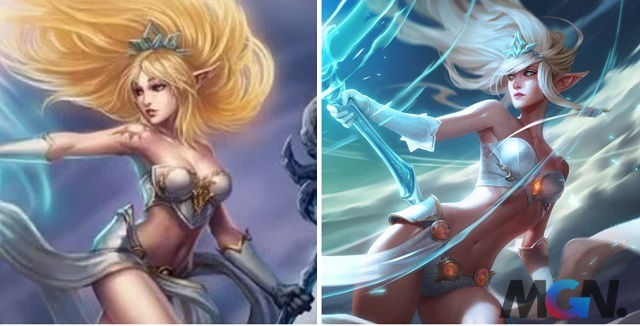 First is Janna, Elite Support champion of League of Legends. You can see Janna after remaking the wallpaper looks a lot like a fairy descending to earth, with platinum hair and white skin. But sadly, this new version is not as satisfying as the old version. The blonde hair along with the lovely, simple look of old Janna has probably been engraved in the eyes of League of Legends gamers.
Katarina
Katarina is a face that impresses strongly with her strong personality and beauty. She is a prominent female general in the Noxus Empire, because she often has to participate in the battlefield to express herself, so Kata's body is covered with wounds, the huge scar on her face is proof of that. there. Katarina old has the appearance of a hot girl, and players love it, unlike the current Kata's animation, although it is greatly improved in graphics, but her face is a bit cruel, even haunting the players.
SEE ALSO: League of Legends: Too much cuteness with ARAM map 'overwhelmed with Poro'
Udyr
One of the champions that disappoints gamers League of Legends The most after reworking the appearance is Udyr. He's a fierce champion himself, but his remake looks like a farce. Riot Games turned a handsome warrior with a 6-pack belly into an old man with a beer belly, making the gaming community and the 'main Udyr' not disappointed.
Flower
The champion that made Riot the most 'cheated' after being refurbished was definitely Fiora, even at that time, many 'main Fiora' were constantly posting. Riot give me my old Fiora back. Because they can't accept the way the publisher turns a hot girl into an 'old woman' like the present. Most of the generals after the appearance is corrected, the beauty will be promoted, except for Fiora, after the rework, this general seems to have aged a lot.
Don't forget to follow MGN.vn to update more new information about League of Legends Please!