These are the 5 items with the highest pick rate and win rate currently, helping League of Legends players get effective ranked matches every time they 'pick' them.
After the Riot Games equipment update in the League of Legends stage 13.10, players have had a change in the way they build their champions. And here are the 5 most effective equipment with outstanding 'winrate' at the moment.
Youmuu Ghost Sword
Youmuu Ghost Sword just 'inclined' to Myth in the current version, besides increasing the movement speed for Assassins to hunt easier, it also provides 55 AD and 18 lethality. Youmuu Ghost Sword also has the ability to increase damage and crit, helping champions deal more damage and destroy opponents faster. Because of this, it currently holds 50.4% on win rate.
Storm Luden
Storm Luden is the favorite equipment of the mages in League of Legends, it becomes extremely superior because besides providing AP, it also provides spell penetration, cooldown and a 'pile' of energy, the owner can feel free to release spells without worrying about mana loss. Storm Luden currently has a win rate of 51.1% in all matches.
MORE: League of Legends: Top 5 champions with the most AFK rate – Yasuo and Yone still lose two names
Crown Shurelya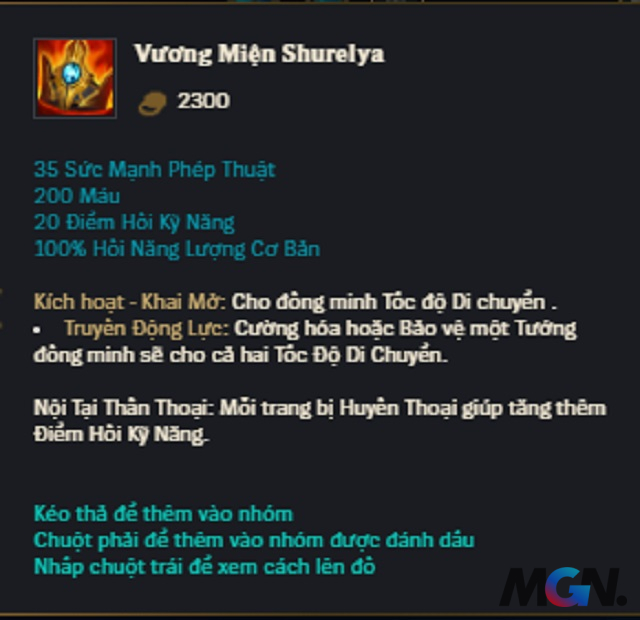 Crown Shurelya is an item exclusively for Support champions in League of Legends (LoL), it offers sp players a series of benefits to support teammates. The Shurelya Crown grants the player an extra level of movement speed and attack speed, it is because of this that it is used very commonly in matches, helping the squad move faster and can attack or defend. better player. Crown currently owns a winrate of 51.9%.
MORE: League of Legends: Top 5 champions with the most AFK rate – Yasuo and Yone still lose two names
Three Hop Sword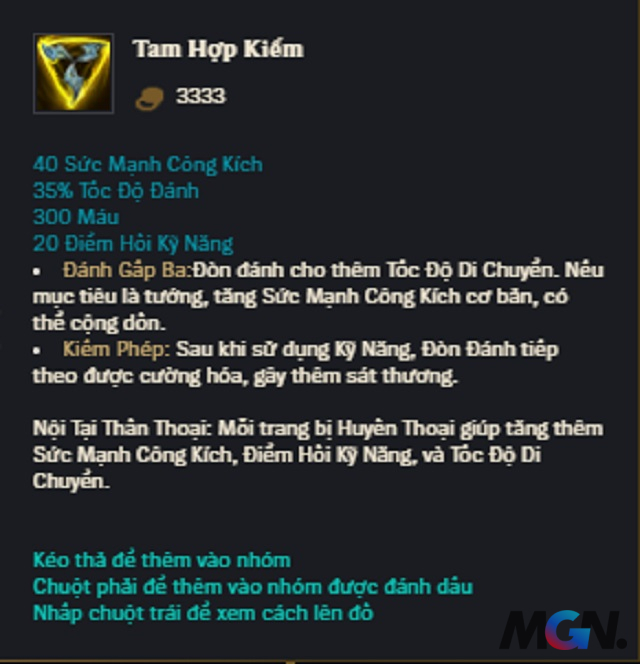 Three Hop Sword is a common equipment of Gladiator generals, it provides a basic and diverse source of damage to the owner. Not only that, Tam Hop Sword also provides more HP and skill cooldown. It's not just melee champions that become effective with this item, marksmen can also take advantage of it to maximum effect (like Zeri). Tam Hop Sword currently has a 52.7% win rate.
Cung Phong Linh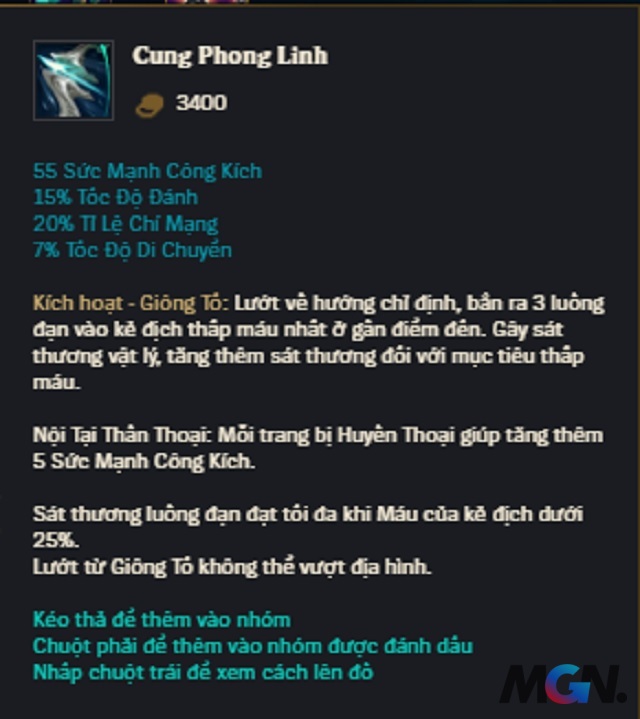 Finally Cung Phong Linh, after the two competitors Dead Man's Crossbow and Killer Hook were 'deposed' to Legendary, this item became the only item trusted by Gunners and was 'picked' frequently in the match. , with the effect of gliding and dealing damage, Cung Phong Linh also "kick" Infinity Sword to find a chicken coop in the win rate chart. This item is leading the way in efficiency with winrare up to 52.8%
Don't forget to follow MGN.vn every day to update more new information about League of Legends Please!