It seems that Vel'Koz's ability to 'wink' while using R has been modified but no, it still exists wildly in League of Legends.
Vel'Koz is one of the most interesting mage champions in League of Legends. This is a purple creature from nowhere, his structure is shaped like an eye. His skill set is also associated with the place of origin, all of which have an extremely eye-catching purple color. Some time ago, the player League of Legends once discovered a super annoying game bug of Vel'Koz that caused this champion's ultimate to be 'interrupted'. Thought it was fixed, but no, it still exists until now.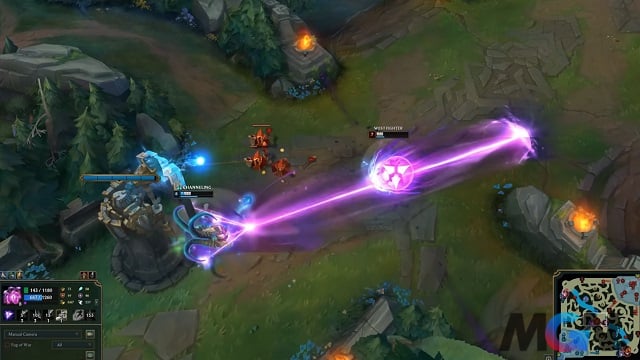 Why say this is a bug, the main reason is because the working mechanism in Void Eye's ultimate is a fixed skill, if it is interrupted, it will disappear. Vel'Koz will spew a purple void in a cone, slowing and damaging any enemies in range, especially, this skill can only be done once and it happens in a row. , Vel'Koz will spray until the effective time expires. And this skill after being interrupted by the player or destroyed by the enemy will disappear.
However, in the video above, holy mistake Vandiril posted a clip where Vel'koz can interrupt his ultimate repeatedly, and repeat in the other direction. This causes this 'octopus' ultimate to be cast multiple times.
SEE ALSO: League of Legends:Top 5 best late game generals
After the game bug was released, many players found it very interesting, they said this game bug can be turned into a new skill that is better for them. Vel'Koz, and advised Riot to 'rework' this champion in that direction. However, there are also some players who have expressed mixed feelings, thinking that mistakes like this will make champions much more OP, and hope Riot quickly fixes it before Vel'Koz 'spray' at all. map with his ultimate.
As a 'main Vel'Koz', I'm sure this is a buff he needs
The sad thing is, Riot will never notice these bugs unless noticed by the media
Don't forget to follow MGN.vn every day to update more news about League of Legends Please!