Zeros "has a lot of disabilities" recently showed that he is also "talented" when he had a very hot overnight stream when he climbed rapidly to the top of the Korean Challenger rank.
During the stream from the evening of August 7 to 5 a.m. on August 8, the former SBTC Esports Top Lane won 10/13 matches, thereby accumulating 717 LPs and climbing to the 26th place on the Challenge rankings. Korean Fighting.
It is known that Korean rank is one of the top difficult League of Legends ranks in the world, It can be said that this is an extremely impressive achievement of a Vietnamese gamer on such a harsh server. So far, apart from SofM, only Kiaya has ever reached this high rank when playing with a fairly high ping level of 70-100 ms.
In this winning streak, Zeros has faced a lot of famous streamers and players and didn't seem to mind at all. The most notable is the consecutive wins against V1per – a former LCS player and a famous boy one champ Riven in North America.
Choosing the ingame name "ZerosVietnamese" has made many gamers recognize the former Vietnamese player. In it, a player with a Korean name mentioned PVB Zeros, and did not forget to mention the title "Global Ban" after searching google. It can be said that Zeros' punishment has finally reached the international level.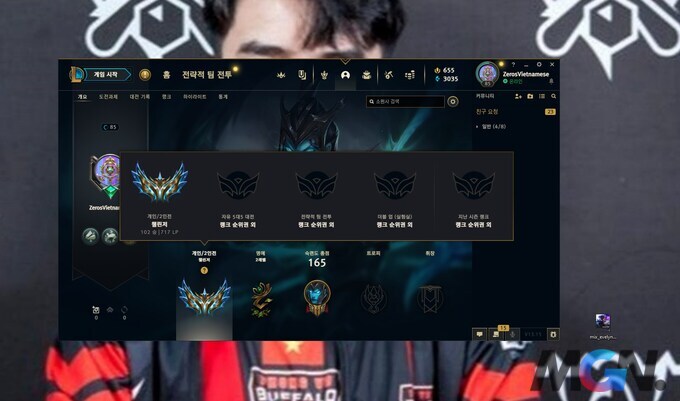 Audiences watching Zeros' Korean rank climbing journey were more or less regretful for a highly-anticipated talent of VCS. If Zeros was more mature that year, without impulsive statements, perhaps one of the best top lanes right now would be difficult for anyone to pass Zeros.
However, Zeros' past mistakes are indisputable and unlikely to be pardoned especially with his very careless and stubborn attitude, so the former player now has no choice but to try. Just do your best as a streamer.