Because it is not possible to 'max ping' when played by 'inexperienced' gamers, if they appear at a low rank of Lien Quan Mobile, these cards will not 'work'.
Lien Quan Mobile does not have a strong major general, moreover, because it is a skill-heavy moba game, it seems that none of the generals in the game are really wasted. Simply put, the strong or weak general depends entirely on the skill of each player.
So, if you have a case of some 'dumb' cards at low ranks, don't rush to think that they are weak because somewhere is a hot pick at high ranks – where you can't reach them. . Typically the following 3 generals in the S3-2023 season.
>> MORE: Lien Quan Mobile: The reason why Iggy became a Top Tier 1 card in the tournament
Yue
For new players or the rank is not too high at the moment, meeting this girl when participating in the rank competition is really not easy because the pick rate is extremely low.
A lot of people are thinking, Yue is weak. But no, this is one of the leading magicians in terms of damage, if there are enough items, it will become extremely dangerous for all enemy team formations. One champ Yue always knows how to scare the opponent and is at a high rank when she gets a good cover from her teammates – Yue can completely stay out of the way and the enemy will be almost powerless to approach this champion .
Iggy
The ranks below the Champion don't take Iggy seriously and that's really wrong. It's not natural that Iggy is always the hot pick/hot ban at the pro tournament, he's so strong!
Playing Iggy in the early stages will mainly be about blood and pressure on the enemy, completely unsuitable for fast-paced and early play at low rank. In contrast, at high rank, strategy is always the top priority, while Iggy fits many lesson plans. His advantage is the ability to poke, open long-range combat is very annoying. If you can play well, this will be a very smooth rank climbing card for everyone.
Wonder Woman
Like Iggy, Wonder Woman is currently one of the most popular champions in professional tournaments despite being 'lost' at rank. However, from the rank of Warrior and above, Wonder Woman is used a lot with a variety of roles from SP, solo lane Ta Than to Forest.
Any position she can play well and even very strong if the team understands. The ability to separate, sweep, chase, and control is extremely annoying… Along with that is the amount of damage enough to make the enemies cry.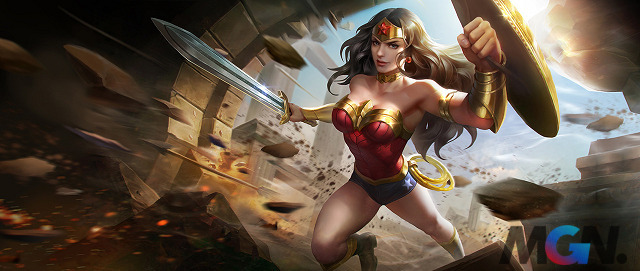 The latest and most interesting information about Arena of valor will be continuously updated and reported by MGN.vn every day. Follow us often so you don't miss out!