NPT has announced the adjustment of the battlefield, opening the snowball meta in Lien Quan Mobile. Therefore, pulling late in the new version is extremely difficult if players do not master the secret.
Surely many gamers "specializing in late fighting" of Lien Quan Mobile are extremely worried in recent days before the information on the battlefield will change in the new version. Specifically, the 'playing ground' officially belongs to the group of strong champions at the beginning of the game, or in other words, 'hit fast and win fast' is the general trend of the new version.
However, a late game lineup will still be a big threat provided that players apply the right tactics and know-how to neutralize the 'snowball' meta.
>> MORE: Lien Quan Mobile: Only these 3 generals are enough to last late in the upcoming 'snowball' meta
#first. Actively embrace the farm, optimize equipment
In the early stages of the game, try to farm hard to accumulate economy and optimize the amount of equipment needed. With that, the late game champion quickly reaches the threshold of strength and plays 'ripe green' with the opponent.
Therefore, should not fight blood at this stage, only when necessary to join the fight.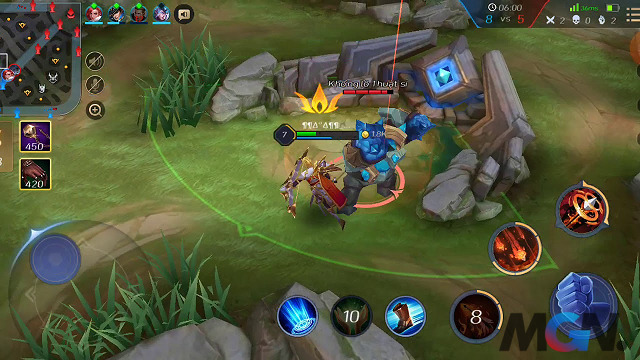 #2. Absolutely do not force a fight when you have no items
Forcing a fight when not 'hard' is completely wrong, especially for equipment-dependent champions. When the power has not been unlocked, just play it safe and wait for the opportunity. However, you still have to gank, but you can't 'sleep' in the Forest!
#3. Be patient and calm in all situations
'Ten years is not too late for a gentleman to take revenge' is the right sentence in this case. If your opponent is too much, don't be discouraged because the opportunity to flip the bet is still ahead, as long as you try and persevere until the right time is okay.
#4. 'Know the enemy, know me'
It is very important to understand the champion quality and strength threshold of yourself as well as the enemy champion. Only in this way can defeating opponents be simplified.
#5. The element of 'dignity' about teammates
It is a skill-based game, but also requires a high level of teamwork. Therefore, when playing late generals, your allies are not allowed to 'explode' early because if so, the charm is not available, the monsters/soldiers are not there, how can they increase their strength? When picking champions late, ask you to play using strong cards early in the game to support you well in the stages!
Finally, don't forget to follow MGN.vn to update more news and interesting content about Lien Quan Mobile!