Instead of fighting instinctively, Macro Players are real 'strategists' in Mobile Alliance when winning by calculation and logic.
Lien Quan Mobile is too famous for its slogan 'Victory at Skill', Accordingly, a good gamer must be a knowledgeable gamer, able to calculate each number correctly instead of fighting instinctively. These players are also known as Macro Players.
So how to improve the Macro program when playing Lien Quan Mobile? Let's consult with MGN.vn right away for some great tips below shared by a moba game 'old man' on Reddit!
>> MORE: Lien Quan Mobile: Some 'secrets' around the launch version of the S3-2023 season
#3. Manage troops and accumulate economy
Probably the two most important aspects of any moba game are managing minion turns and accumulating resources for the squad. Here are some basic tips that players can apply:
In the mid or late game, when the home team is moving towards a goal, try to push waves of minions in the two nearest lanes to act as an obstacle for the enemy team to overcome before they attempt to compete for the goal.
If the player has already gained the upper hand in the Dark Caesar lane in the early stages, try to overwhelm the opponent as much as you can by harassing continuously until they retreat from you. Prevent them from gaining gold/exp by all means and keep resources away from them.
If your opponent is far from the lane, push the minion turn and capture small jungle camps from your jungle or the enemy's jungle to extend your lead.
When laning, if you play Support (unless you're pushing a target) don't push minions without ADC as they will lose a lot of gold. Also, stop chasing when minion and Jungle turn gold is available on the map. One wave of minions is worth 0.5-0.75 lives.
#2. Map awareness and ping
To understand simply is to analyze the movements of teammates and enemies: Is there a conspiracy behind the position they are heading to, predict why they want it, … to catch up and destroy quickly.
Time to view the map: Ideally every 3-5 seconds, but this can be boring for many people. So, at a minimum, check the map while roaming, going to lane, before engaging, and before teamfights.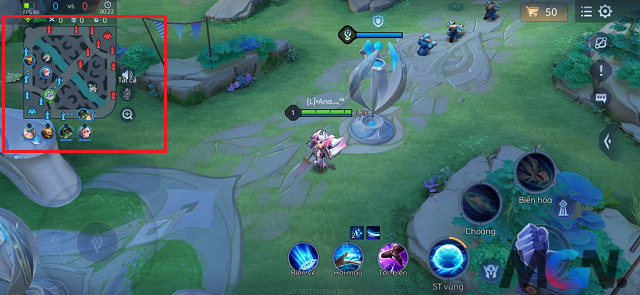 Look for the enemy jungler and spam ping to help your teammates. The same goes for goals. When you're going to dispute a goal, Ping! Ping, ping, ping, ping, ping – Better to be 'loud' than lose.
#first. Do not insist on fighting
Battles from small to team take place regularly in LQM. But please note the following issues:
Do not try to fight with bets that you know you will lose. Although it is possible to be 'complained' by teammates, surviving is still better than dying. So, if you feel 'too sweet', just run away. In particular, protect the carry well, this is the position to survive. Be prepared to sacrifice yourself if this helps you win the battle.
If the enemy team is leading and will definitely win the teamfight, don't 'all in' the fight completely, but try to take them down one by one.
Finally, before the fight, check to see what items the enemy has to prepare better.