Mobile Lien Quan players in Thailand are spamming Lauriel very hard to get a great Discount Card if they meet the Top General condition.
Recently, Lien Quan Mobile server Thailand has played a huge game – Give Coupon when purchasing skins for anyone who owns Top Lauriel (Note: Only players who own Purple and Pink or more).
For the unknown gamer, [Cục Tím] is equivalent to being in the Top 100 and [Cục Vàng] equivalent to 10 best Lauriel players at server Thailand. The Quan Huy Discount Card is a gift for the Top 10 people with the highest Lauriel Strength Points and the 300 Quan Huy Discount Card is a reward for the Top 100 people.
>> MORE: [HOT] Runner-up Miss Grand International – EngFa x Lien Quan Mobile: Voiceover for skin Lauriel Tu Nguyet La Sat
This event was launched for the purpose of advertising, as well as congratulating on the occasion of Lien Quan Mobile (Thai Server) in collaboration with EngFa to launch the Lauriel Tu Nguyet La Sat outfit.
This is great news for those who love general Lauriel and have owned previous 'Top Departments'. In contrast, gamers who do not have it will flock to 'spam' Lauriel. All made her fans in Vietnam extremely excited and wished for the same. Many gamers at other servers expressed that this is an extreme battle phase from the NPH of Lien Quan Mobile server Thailand.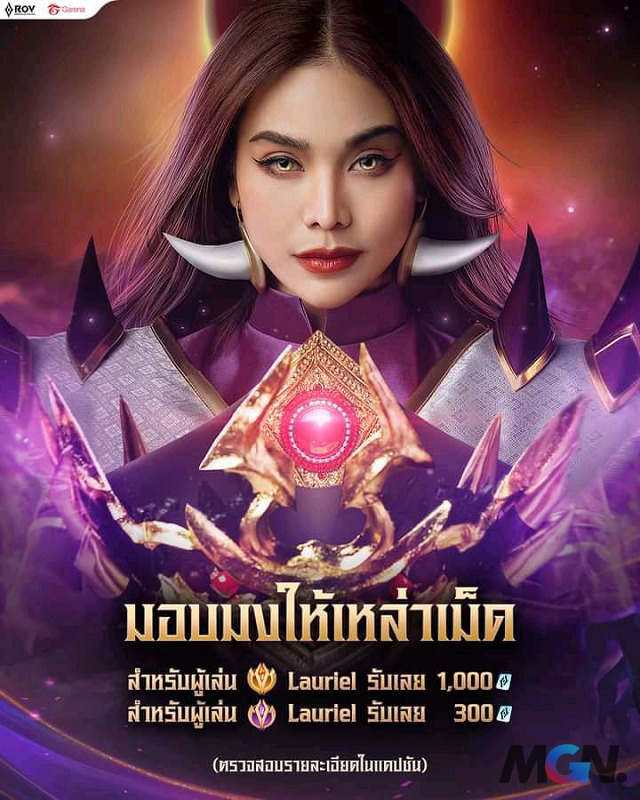 After the information about this event was announced, there were many Vietnamese gamers, especially the "Best Lauriel" 'jumped' to the Thai server to participate. Do not forget that Lien Quan Mobile in Thailand, Vietnam and Taiwan are the 3 servers with the largest and most stable players. Therefore, joining these 3 servers is very easy, so you can download it to try it out.
The latest and most interesting information about Arena of valor will be continuously updated and reported by MGN.vn every day. Don't forget to follow us regularly so you don't miss out!