Lien Quan Mobile has updated the new Caesar Avenue mechanism, causing many gamers to have difficulty. Players should immediately pocket the following 3 ways to stop this wave most effectively.
Caesar Avenue in Lien Quan Mobile is a wave of energy that starts from the main house after summoning the vanguard Caesar, gliding through the line of soldiers and reaching the enemy base and wiping out all the enemy team's soldiers on its path. This will make it less likely for the opponent to last long and hold out against attacks on turrets and main buildings.
Knowing the following tips to block Caesar Avenue, you will be able to protect your team's soldiers and gain the opportunity to effectively 'turn the odds'.
Lo Cot Tu Quang
This is the trademark move of General Dirak and is also a move that has the ability to create an extremely useful premise for attacking the house and defending towers. When activated Lo Cot Tu Quang, Dirak will release the power of the Shield Shield and form a shield to block all enemy attacks, bullets, and ranged beams, including Caesar Avenue.
This is the easiest to use and most effective technique when it has the ability to block and completely destroy Caesar Avenue. When using this move, gamers can both protect soldiers and lose beneficial effects that enemies may receive on the avenue.
>> SEE MORE: Lien Quan Mobile: 5 hot cards picked in the tournament but flopped in Vietnamese rank
Destruction Mode
Destruction Mode is Omega's ultimate move. When activating this move, Omega turns on energy shields to form a barrier around himself to withstand all long-range normal attacks from enemies during this time, including enemies. Caesar Avenue.
Although it has the same effect as Lo Cot Tu Quang, to effectively use this move, gamers need to align the time correctly. After the 'major surgery', Omega is still not popular with many gamers, so with the ability to stop Caesar Avenue, Omega will have the opportunity to appear more in matches in the Endless Plains.
Gas Thon
Gas Village Along with Rolling Dragon Loc are two combined moves that make the reputation of Assistant General Zip with his extremely powerful 'backdoor' ability. When activating Gas Thon, Zip will open his mouth wide to open the dimensional space and suck allies and nearby monsters into his stomach for 4 seconds.
With Khi Thôn, Zip can protect minions against the Caesar wave, helping the team push towers and defend the lane extremely effectively. However, this move only works to keep soldiers safe and cannot remove beneficial effects of enemies on Caesar Avenue, so this is not the optimal choice like the two options above.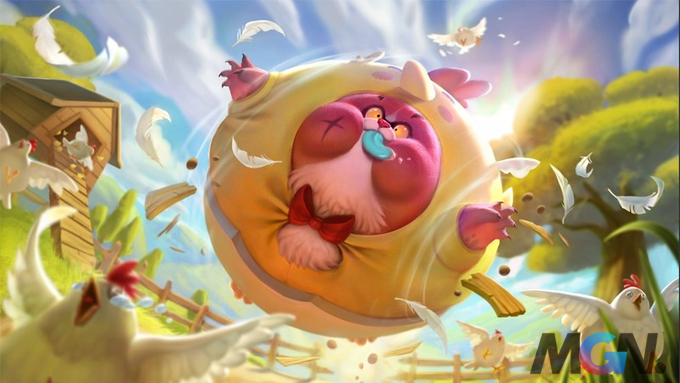 Above are 3 options that can prevent the impact of Caesar Avenue. Hopefully with these tips, gamers can apply them effectively to contribute to the team's victory in the match in the best way.
The latest and most interesting information about Lien Quan Mobile will be continuously updated and reported by MGN.vn every day. Follow us regularly so you don't miss it!