Don't miss out on a series of extremely high-quality items being sold at deeply discounted prices during the December Black Friday event that Garena has just launched for Lien Quan Mobile.
Joining the bustling atmosphere of the year-end major holidays, Garena recently launched a super event – Black Friday December for Lien Quan Mobile. This is an opportunity for gamers to become owners of 'genuine' items but only at extremely soft prices.
Black Friday event details: HERE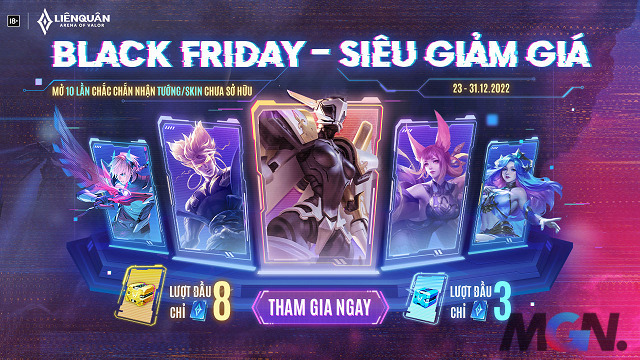 Black Friday is the biggest discount festival every year, but in Lien Quan Mobile, it is held in December instead of November. This year, the event time is from 23 to 31 December.
Gamers will have the opportunity to receive Excellent skins and Limited Tel'Annas SSS skins. Specifically, players will participate in opening silver or gold chests. In the first turn, open a silver chest for 3 Quan Huy and a gold chest for 8 Quan Huy. From the next time the price will be 15 Quan Huy for the silver chest and 30 Quan Huy for the gold chest.
– Gifts in the silver chest include: Skins available for sale in the shop, Heroes, Emotes, Dances, Permanent Effects.
– Gold chest gifts include: SSS Skins, Excellent and Limited SS Skins, A to S+ tier Skins that are limited and available for sale, and Heroes.
Items when opening a chest will appear randomly and if you open 10 consecutive chests, you will receive an unowned champion or skin. Overall, this is an extremely beneficial event for those who already have a lot of skins and are only missing a few Limited or Excellent skins.
On the other hand, for gamers who intend to hunt for SSS skins or Excellent SS skins, it is necessary to consider carefully financially because if you want to be able to choose an Excellent costume yourself, you will have to shoot 9900 Quan Huy.
Besides, when opening the chest, there will also be a chance to get SSS Skin or Excellent SS. During the process of opening the chest, if the skin is not released, the player can use the badge to exchange the costume for 666 for a set of Beauty of their choice. Silver chests will be 1 badge per chest and gold chests will be 2 badges per chest.
In particular, when spending enough Quan Huy milestone of 4500, players will receive an additional chest of SS skins that they do not own and open to receive randomly. Thus, summarizing after 9900 Quan Huy, players will receive at least 2 sets of Excellent SS skins and if lucky, they will get more SSS skins and a series of other costumes.
>> MORE: Lien Quan Mobile: Noel has a lot of gifts with a series of events to get free skins
Finally, don't forget to follow MGN.vn regularly so you don't miss any of the latest and most interesting content about Arena of valor.