Lien Quan Mobile's SSM sales in 2022 are very high, but this is not surprising because every outfit released is also very high quality.
One of the features that Lien Quan Mobile players are most 'loved' must definitely mention Mission Book. Simply put, SSM is a series of tasks with complicated rules of operation, but the rewards are well worth it.
Currently, Garena releases SSM in two forms, free or paid. Gamers will have to complete assigned tasks to level up SSM, thereby obtaining valuable gifts, typically skins for champions (only available in the paid version).
Going back in time, 2022 is a pretty successful year for the national moba game because besides the super-genuine costumes released, there have been a total of 12 SSM seasons brought to all players by NPH. Basically, if anyone has 'missed' SSM skins, they can still hunt with Quan Huy in the near future if they are available for sale in the Shop.
Some of the most successful Mission Book seasons in 2022
Season 40 with the theme of Beach Party had the participation of extremely hot generals, Liliana, Aoi and Laville. At that time, all three possessed outstanding strength and were trusted by many Masters, so the "lofty" Mission Book player was understandable.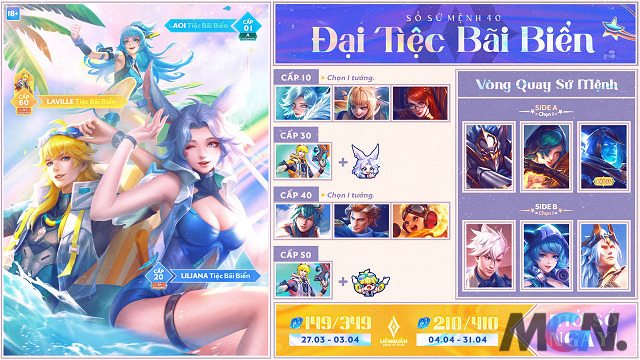 Mission Book season 44 is equally hot when all three outfits appearing in this season are highly appreciated by players. The set of 3 'models' according to levels 1 to 60 respectively are Moren, Sinestrea and the pet Tulen.
The Mission Book season 46 has made players who like the feeling of 'ghost, science' extremely satisfied. The highlight of this season belongs to the level 60 Krixi – An outfit that is highly appreciated for both appearance and skill effects.
In particular, if 'Queen SSM' is not counted as Annette, 2022 is considered 'Aoi's SSM year' when she appears twice in seasons 40 (lv1) and season 47 (lv60).
Players can refer to the entire 2022 Mission Book of Lien Quan Mobile through the image below:
Currently, Lien Quan Mobile is about to enter the season 54 Mission Book, which may be related to technology. The trio of generals present include Lindis, Aleister and Chaugnar. On the other hand, the SSMs that have been released since the beginning of the year so far are generally considered to be quite good. The road ahead is still very long, whether 2023 can pass 2022 or not, we still have to wait!
>> MORE: Lien Quan Mobile: Discovering the Season 54 Mission Book, Lindis appeared full of personality
The latest and most interesting information about Arena of valor will be continuously updated and reported by MGN.vn every day. Follow us often so you don't miss out!