Sharing the atmosphere of the Black Friday 'sale house', Lien Quan Mobile every year organizes the Wheel of Fortune as a discount festival for gamers.
Occurrence time
Don't miss the opportunity to buy your favorite items, including skins in Lien Quan Mobile on the occasion of the ongoing Lien Quan Lucky Wheel event.
It is known that Garena will hold a Wheel of Fortune from November 11, 2022 to November 27, 2022 to celebrate the APL 2022 tournament.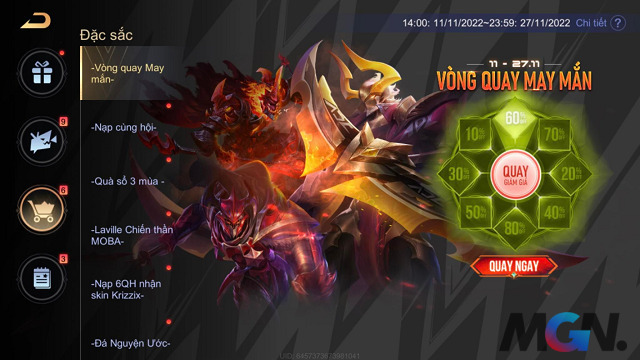 Rules of the Lucky Wheel of Fortune
Gamers will get FREE spins to win discounts from 10% to 80% (Each discount can only be used once) to buy not only the commemorative costumes of the League of Legends but also the costumes and Other attractive items in the event shop.
In addition, players can refresh items in the event shop for 1 Quan Huy before purchasing. After the first item has been purchased, the player CANNOT refresh.
Costumes and items will be sent to the mailbox after purchase. If the mailbox is full, event items cannot be returned. Items are sent within 24 hours.
In case of needing support, gamers please contact customer service.
The event's shop includes 5 hero skins from A to SS tiers, plus talisman paper and treasure tickets. If you are not satisfied with the available items, please proceed to refresh to have a new list of items.
>> MORE: Lien Quan Mobile: Change the exchange rate to top up Quan Huy on the App Store platform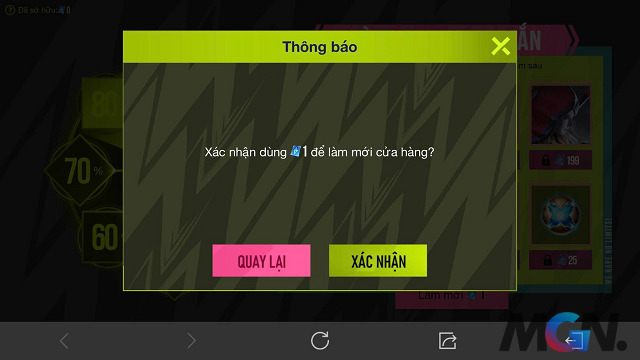 General, Coalition Lucky Wheel It is worth it for gamers to experience and 'test their own dignity' when this is a great opportunity to buy favorite items at a strong sale price. Enter the game and join now!
The latest and most interesting information about Arena of valor will be continuously updated and reported by MGN.vn every day. Follow us often so you don't miss out!