It's wrong to say Preyta is weak, he's 'out meta' mainly because his kit is outdated. Accordingly, the best game maker should 'rework' his skill set in Lien Quan Mobile as soon as possible.
Preyta – The Plague Knight bring the blood of the mage in Lien Quan Mobile. In terms of strength, Preyta impresses with spectacular damage, can continuously launch skills and ranged skills with many control effects.
To be fair, Preyta isn't weak at all, he's 'out of the meta' mainly due to his outdated kit. And that's why in many recent versions, Preyta seems to have disappeared from the map.
>> MORE: Lien Quan Mobile: Top 4 generals changing sides – spectacularly 'blackening'
Currently, it's time for Preyta to have the skill set reworked because according to many players, buffing will no longer be possible. So how should Garena rework Preyta? Below is the opinion of a player on Reddit that MGN.vn has consulted, please read along!
Basically, Preyta's skill set will still be based on Khuong Tu Nha of King of Glory but will be slightly adjusted to match Mobile Union.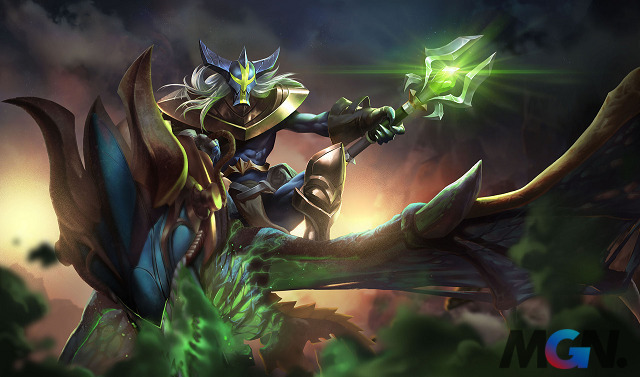 Passive – Flying Dragon
When Preyta deals damage to an enemy and has a life, he will gain 1 – 3 experience orbs to level up faster.
After reaching level 15, Preyta merges with the Dragon and enters Superbug state and he will be able to level up to level 25.
Skill 1 – Poison Smoke
CD: 8 seconds, Mana: 50
Preyta blows Poison Smoke to a target location, dealing 75(+13.5% AP) magic damage every 0.4 seconds. Poison Smoke lasts up to 3.5 seconds.
Enemies inside the smoke will have their Movement Speed, Armor and Magic Resist gradually reduced (Up to 50% Movement Speed, 10% Armor and Magic Resist).
Skill 2 – Poison Bomb
CD: 11s, Mana: 60
Preyta detonates a Poison Bomb at a designated location, damaging enemies 3 times, dealing 60(+12% AP) magic damage each time. After a short time, it explodes, dealing 300(+70% Ability Power) magic damage and knocking enemies into the air for 0.75 seconds.
Ultimate – The Phantom of the Plague
CD: 12s Mana: 70
Preyta accumulates her Plague Phantoms for up to 2 seconds, then unleashes them 3 times. The longer the preyta accumulates, the greater the range of effect (up to 1800 units). Any action taken now will immediately release the Phantom.
– The first 2 Ghosts deal 125(+20% AP) magic damage.
– Last Ghost deals 600(+80% AP) magic damage.
– Ghost deals 10% damage to enemy Turrets.
In your opinion, if it is adjusted as above, does Preyta have a chance to return to the Lien Quan Mobile meta and be used more? Or if you have any suggestions about Preyta's skill set, don't hesitate to comment!
The latest and most interesting information about Arena of valor will be continuously updated and reported by MGN.vn every day. Follow us often so you don't miss out!