Lauriel's beauty in Lien Quan Mobile is the 'weapon' that helps her conquer a huge fan base. However, does the 'newbie' know about her old appearance?
In Lien Quan Mobile, Laurie is one of the leading magicians in terms of the number of gamers. Although considered to have been 'out of meta' in recent seasons, the hotness is completely unstoppable.
Basically, Lauriel offers sustained damage and the ability to solo with the enemy team is on the 'top'. Along with that is the "favor" of Garena when possessing an extremely beautiful appearance and a series of quality costumes.
However, before becoming a Lauriel as everyone knows now, she once appeared in Lien Quan Mobile with a different beauty. If you are a 'newbie' and still do not know this, let's take a look at the past of this female Sorceress through the skins below!
>> MORE: Lien Quan Mobile: 'Balance' skins with the same theme of the first two beauties Lauriel and Dieu Thuyen
1. Default Laurie (old)
2. Lauriel Fallen Angel
3. Lauriel Fire Phoenix
4. Lauriel Holy Light Ambassador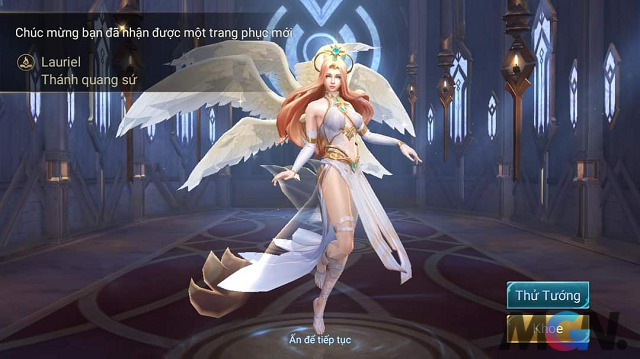 5. Lauriel the Pumpkin Witch
In your opinion, is Lauriel now or in the past really beautiful and unique? Let's discuss with MGN.vn and everyone!
And in order not to miss the latest and hottest content about Arena of valor then please follow MGN.vn regularly.
Related Posts
Lien Quan Mobile: Sephera is the perfect choice to counter hard Hayate, making it difficult for him to see the face of Lien Quan Mobile soldiers: [Tâm điểm skin] – What is special about Helen Hotgirl Milk Tea costume? Lien Quan Mobile: Admire the 'full' appearance and skill effects of the Veres skin Witch Makeup Lien Quan Mobile: Top 3 SS-level skins have 'faded' from the hearts of gamers