Capheny is a 'hot pick' AD general in the recent seasons of Lien Quan Mobile, making a strong impression with his extremely annoying 'hit and run' ability.
In recent seasons, Capheny is a notorious 'name' in the Gunners world of Lien Quan Mobile when not only being picked strongly in ranked matches but also in tournaments. The abilities that she possesses are all extremely great: Great damage, strong shock damage and especially can 'take care of' well without too much SP.
Accordingly, to the season S3-2023, Capheny is still a reliable ADC. If you also want to try your hand at 'her', then check out these good tips below to optimize your strength!
>> MORE: Lien Quan Mobile: How to master the power of Dieu Boat in season S3-2023
The passive allows Capheny to both move and attack, thereby being able to 'fly a kite' very well in combat. Capheny's basic attack speed will not be affected by attack speed because all the attack speed she has will be converted to physical attack.
At the start of the match, raise skill 1 at the first level if you want to farm safely. When activated, Capheny will switch from holding a cannon to holding a cannon to increase range and damage but will consume internal energy, and help skill 2 change into a jet phase. When activated, it will consume energy and glide in the specified direction, can cross terrain.
At activating ability 1 or when running out of energy, Capheny will automatically switch from holding a cannon to holding a cannon. When holding a machine gun, Capheny's basic attacks will help restore energy, and gain armor penetration thanks to the passive of ability 2, up to 10 stacks. When actively activating skill 2 in this form, Capheny will be speeded up and receive 10 layers of armor penetration.
So, raise skill 2 at the first level if you want to put pressure on the opponent early, but then will still prioritize maxing ability 1 first because that's Capheny's main damage move.
When activating his ultimate, Capheny will discharge 15 consecutive rounds of bullets in the specified direction, dealing physical damage each wave and reducing the target's armor. During this time, Capheny can still move but is soon slowed down. This is a very effective technique to close the corner, press the tower, and clear soldiers from afar. But because in the process of using it will be slowed down, so it is not recommended to use it when you find that the opponent can easily approach you.
About summoner spells
– As an AD general of a special mechanism, both moving and attacking, Capheny is very suitable for Express.
– To hold a better position and be more mutant in teamfights, use the Flash summoner spell for Capheny.
Combo moves
Capheny does not have a specific combo, during the game, alternately switch between cannon and machine guns to optimize damage.
About the gem board
Equip Capheny with critical damage runes.
About badges
Use Spirit to maximize Capheny's damage.
About equipment
Tenacious Boots (or Guardian Shoe/Nomad Boots) > Sword > Ferocious Claw > God Slayer > Fenrir's Fang (or Evil Bow) > Shield Armor (alternating with Frost Orb and Death Scythe).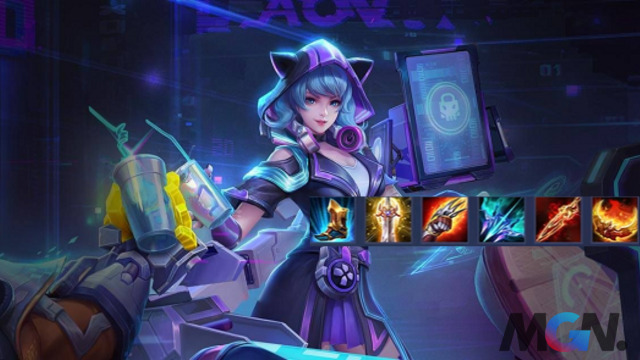 Note: Actively upgrade to Troy Medal if the enemy team has many strong STP sources or to Sword Fafnir if the enemy team has many 'buffalo' champions.
Finally, don't forget to follow MGN.vn to update more news and interesting content about Lien Quan Mobile!
Cre: Khanh Hy