Bijian is the newest general of Lien Quan Mobile, so there are still many gamers who do not know how to choose a champion to effectively counter this card.
Rookies Grains 'landed' and quickly joined in! Thanks to showing overwhelming strength, many Lien Quan Mobile gamers competed to 'test'. On the contrary, many players are also bewildered because they do not know how to make this card different.
So, right in this article, MGN.vn will immediately suggest you the top 3 best generals who can 'counter' Bijian today. Hopefully the article will help you feel more confident when meeting this guy with this 'unique' skill set.
>> MORE: Lien Quan Mobile: Bijian has shown destructive power to his eyes
General Hayate
No matter how stubborn Bijian is, he has to say hello first Hayate because he is one of the most terrible standard damage cards in LQM, and is also a famous ADC with his super annoying 'kite' support.
It is not easy to get close to Hayate, while Bijian if not close, is no different from waste. So, this will be the best card to counter Bijian today.
General Liliana
If Bijian goes to the Jungle or SP, it is common to drag teammates around the map to fight. Therefore, a mobile mage, strong poke and especially able to counter enemy moves like Liliana will be a very good choice at the moment.
Liliana's mobility will help her easily dodge the ganks of Bijian as well as the enemy. A Bijian to full damage will be easy to stay behind after a combo of this female Sorceress. Or if you go to a full tank, you will have to die before that huge amount of damage.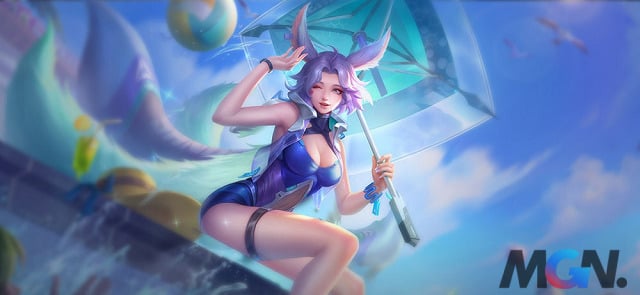 General Florentino
if do not have Florentino then any Gladiator general is very formidable. Since its debut, despite being constantly slashed by Garena, Florentino's 'voice' is still very strong as the best 1v1 solo card currently in Ta Than lane.
Whenever Florentino is played by a one champ or a Master, Bijian 'closes the door' to confront is certain. What Florentino has to beat Bijian is abundant damage, virtual variables, unpleasant effects and especially weight 3, 4 is as easy as eating porridge.
Every day, MGN.vn brings hot news around the domestic and international gaming village. Be sure to follow us regularly so you don't miss out!