Violet will become a true 'soldier' ​​if you play well these Mobile Union generals at the present time.
Violet Although the 'professional age' in Lien Quan Mobile is already high, it has never fallen behind compared to the generals released later. Moreover, because she is a familiar champion, she has become the trump card of many players, including the Master. With the understanding of the generals and the mastery of the skill set, the 'best Violets' in the match are always the fear of many opponents.
However, Violet will become a true 'soldier' ​​if you play well these Mobile Union generals at the present time.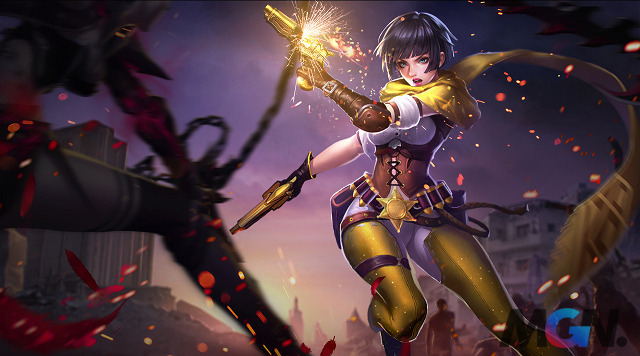 >> MORE: Lien Quan Mobile: [Fun Fact] – Violet is a darling, is the champion that holds the most records in the game
Tel'Annas
Tel'Annas is considered 'above' Violet thanks to the advantage of long arm span and good damage from the first levels. Although Tel'Annas' mobility is almost zero, this is not a problem when meeting Violet.
At the beginning of the game, Violet's damage mainly comes from skill 2, but because it has not reached the equipment threshold, the damage is negligible. Meanwhile, early on, Tel'Annas with skill 1 has damage, and attack speed and range, so it will make Violet extremely difficult to play. When it comes to late, Violet is very easy to 'volatile' before the huge amount of damage from the Spirit Queen.
Wukong
Assassin is the most ideal Gunner catcher and Wukong would be a typical name to accept this task. This is an extremely hot card in the ranks below the current Chien General.
When he has something, Wukong only needs 2 knocks to see Violet back to the altar. Thanks to the stealth skill set, Wukong is more than able to kill Violet if her team doesn't have a good protective SP. On the other hand, because he is a shock champion, the amount of damage that Wukong causes is undisputedly terrible.
Elsa
To constantly overwhelm and force death Violet, you need a good Elsu on the team. As long as the player 'knows to shoot', Elsu will become the main force to carry the team to victory, not just countering Violet.
Elsu is famous for being an ADC general with abundant damage, even the weak SP must be afraid, along with the ability to control good vision, so as long as the player takes advantage of it, he will scare Violet 'on the board' a lot. times during the match.
The most interesting and new information about Lien Quan Mobile will be continuously updated and reported by MGN.vn every day. Don't forget to follow us regularly so you don't miss out!