The utopia, the unbelievable, the absurd… finally happened – Lien Quan Mobile and Vuong Vinh Dieu have cracked 'brotherhood'.
Famous for being two 'brother' games but released in two different markets, Lien Quan Mobile's relationship with King of Glory recently suddenly cracked, making it extremely difficult for the gaming community on both sides. endure and be amazed.
For gamers who do not know, Lien Quan Mobile and King of Glory are actually moba games that belong to Tencent and are currently managed by L1 Studio. It is easier to understand that Lien Quan is a sub-version of VGVD in countries other than China.
Accordingly, from maps, generals, equipment, … Lien Quan Mobile is inherited and built based on the prototype VGVD.
However, before joining the L1 team, Lien Quan Mobile was managed by J6 and is said to be quite different from the 'mother game'. But at present, with the same operating team, the boundary between the two games is gradually being blurred. The proof of this year's clothing transfer trend is controversial.
For many 'easygoing' gamers, this is a good sign because both games will develop and be more successful together. But on the other hand, because it is the 'mother game', some difficult players in VGVD are being annoyed, even 'superior' and very disdainful of AOV – This is also the source of the rift that MGN.vn has mentioned at the beginning of the article.
>> MORE: The battle between moba games in Mainland: VGVD is out of the top 1, facing intense confrontation with Onmyoji Arena
Specifically, these people think that AOV is a 'lower' game and see the transfer of costumes from HOK to AOV as if they are 'blessing' rather than cooperating.
But the story did not stop there, the climax of the conflict occurred when Lien Quan Mobile began to open a campaign to transfer its exclusive costumes through HOK.
The same group of 'super' gamers mentioned above, they say that a 'dump' like AOV has no right to transfer those 'junk' to their 'first-class' game.. This is also the reason. That's why the things that are transferred from AOV are rated extremely badly by this section of people. Everything is almost impossible to please them.
HOK at the moment is under a lot of pressure when they have been criticized for making the new lore skin so bad, and have to cope with the 1* storm from the fastidious player segment. Currently, HOK is only 1.9/5* rating and has lost the top 1 from the popular game chart in China.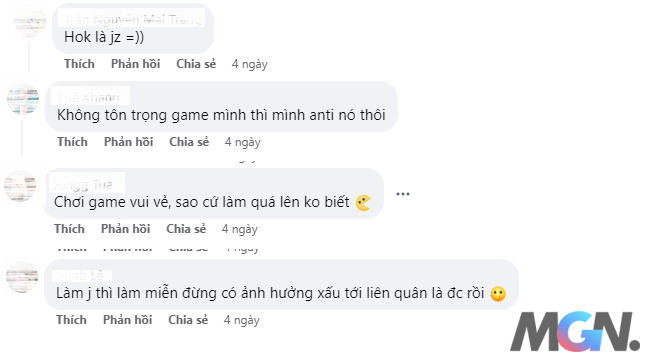 If this is not resolved soon, it is possible that in the future, the transfer between the two games will be extremely difficult.
The latest and most interesting information about Arena of valor will be continuously updated and reported by MGN.vn every day. Don't forget to follow us regularly so you don't miss out!