Many players of Lien Quan Mobile recently often choose 3 ads to cancel the game when the champion is not as desired, but many players do not know what is the reason behind?
Lien Quan Mobile now has a lot of convenient features, the most typical is the feature of canceling the match, when you encounter breaking the game or your champion is not as desired, so why only when we pick 3 Ad can we get it? cancel the match.
All due to the "reasonable lineup" mechanism according to the path setting for each champion, you will see in the generals section.
This will be a "reasonable lineup" according to the system for each case (I will pair the team in the order of Top – Forest – Mid – Ad – Sp)
3 Assistants: Gildur – Aoi – Ishar – Capheny – Helen
3 gladiators: Omen – Trieu Van – Krixi – Capheny – Veres
3 assassins: Qi – Aoi – Raz – Capheny – Helen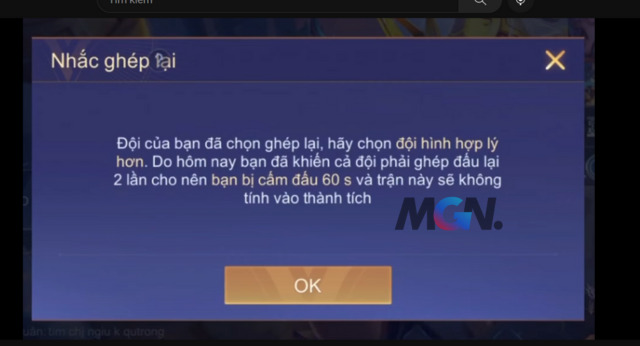 3 magicians: Marja – Flash – Krixi – Capheny – Helen. In the process of playing the game, you also know that there is no Ad that can go to Caesar or Mid, so the system will confirm this is an "inappropriate lineup" and is suggested to combine (unless you play the game). play according to the team's strategy) so team 5 will not be able to apply this feature. When you go solo or team 3 or less, identifying a match with 3 Assassins, 3 Gladiators, 3 Assistants is a "reasonable lineup".
>> MORE: Lien Quan Mobile: Top 3 Gladiator generals are about to have new and most playable costumes today
There are 2 special cases that need attention
1. Picking 3 Mages like: Krixi, Lili, Tulen in 1 match but still can't cancel the match. Because the "reasonable squad" mechanism recognizes that there is a "reasonable lineup" of 3 mages. So up to now, it is still impossible to cancel the match (even though this is also a troll lineup).
2. Picking Bright with 2 more Ad will not cancel the match because Bright is only considered "can hit Ad" but not considered as pure Ad, Garena will recognize 2 Ad and the match will continue. .
Finally, don't forget to follow MGN.vn regularly to update new news about Lien Quan Mobile!