As one of the hot Tanks in the meta this season, Xeniel and Y'bneth are chosen a lot by gamers and players in ranks and tournaments.
Season S3-2023 is a season where the forgotten Assistant champions are gradually becoming popular again, such as the Chaos Messenger Chaugnar returning as a statement Grakk is just a name. Along with that Xeniel and Y'bneth are also hot again.
So, when Y'bneth and Xeniel appear in a match, which card will bring the most advantages and can cover the best team? Let's find out with MGN.vn!
The level of buffalo, resistance
Xeniel: Possessing extremely thick armor from skill 1 – Patronus helps Xeniel withstand strong damage throughout all stages of the match. This armor is also increased with Xeniel's level and health, giving Xeniel very good resistance, being a solid shield for teammates.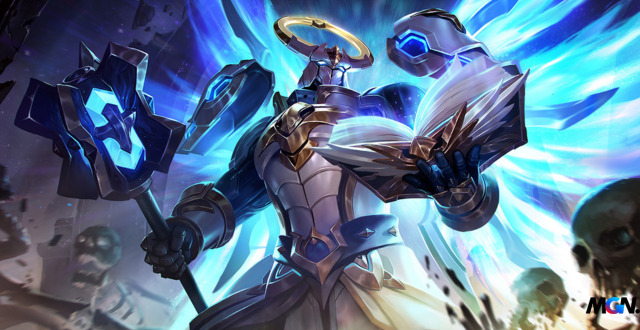 Y'bneth's resistance is very good, it can be said that it is surprisingly buffalo, especially in the ultimate move, Seed of Life, Y'bneth covers himself with a layer of armor for 20% of health and heals 2% if like using a move to hit an enemy champion. Once standing in Y'bneth's ultimate, the opponent will not only suffer the effect, but also take additional mental damage because the range of the ultimate is very wide.
In general, it seems that these two Tank champions are very strong in their ability to withstand, possessing a large amount of armor as well as a large amount of health. Both also have moves that increase the buff: Xeniel has a Guardian Angel that increases his armor, and with Y'bneth, the Seed of Life will make enemy champions difficult to approach.
>> MORE: Lien Quan Mobile: How are Tulen's "swimming" generals Lei Dieu now?
Discomfort
Xeniel: Xeniel's discomfort lies in move 2 – The Force Mace, this is also a move that helps him have more mobility. With the ability to jump to a designated point in range and also cause enemies hit to be knocked up for 0.75 seconds. In addition, this Coalition general possesses the Salvation Mission to fly to the location of a designated teammate, can both support from afar, and buff the armor extremely well. One point you should note is that his 3rd basic attack also slows enemies by 50%.
Y'bneth's discomfort: It can be said that all 3 moves of this general can create a great deal of discomfort on the opponent's squad. In skill 1 – Patronus slows up to 80%, this is a large number of slows especially in the early game. And yet, this move when attacking 5 targets or 2 enemy champions is also enhanced, with the ability to repel, making Y'bneth very strong in protection as well as pressure.
Skill 2 – Nature's Comfort stuns for 1 second and is likened by the player to a "slap of nature" that the victim can feel the "wretchedness". In the end, the Seed of Life can not only attack enemy champions but also slow them down by 60%, making it impossible for anyone to get close, especially Assassin champions.
Both of these Coalition generals have a certain degree of discomfort, but Y'bneth is certainly on the line with 3 control moves in Xeniel with only one. Not to mention Y'bneth's variety of stuns, slows, knockbacks… and Xeniel depends on luck as well as the player's sensitivity.
recovery ability
Xeniel: The only move that gives Xeniel the ability to heal is the ultimate – Salvation Mission, this is also the move that makes this champion's brand. After jumping to the selected location, the "one" who helps himself and his allies in the area recover 10% of his maximum health is extremely prestigious.
Y'bneth: Y'bneth's healing ability is quite strange, the guy who possesses the Mother Earth passive heals 2% of his maximum health when standing in the dust, easily full health without having to return. In addition, each seed from the Seed of Life move that hits an enemy champion will restore 2% more health, giving him more stamina as well as better recovery.
Looking at it objectively, it seems that Y'bneth has a better healing ability, but this ability only affects himself. Meanwhile, Xeniel can heal both himself and other allies. However, because it is a match between two generals, perhaps Y'bneth continues to outperform Xeniel in this clause.
Ability to support teammates, in combat
Xeniel: Supporting teammates is Xeniel's strong point with Mission Salvation allowing him to fly to allies at any time. This means that Xeniel can support allies across the map and give the selected ally an incredibly thick shield. After Xeniel lands on an ally's location, it will help heal and gain a powerful run speed.
Y'bneth: Possessing all the skills is an annoying control, Y'bneth can cover and create for teammates to score goals very easily. For example, the ultimate creates a very uncomfortable control area, if you don't go in, you can't deal damage and when you go in, you will be stunned.
In short, both of these Coalition generals do very well in their ability to protect and support in combat, but it seems that Xeniel is sure of this bet. He can protect his allies anytime, anywhere.
Conclusion: Xeniel vs Y'bneth is sure to be an intense, high-stakes showdown. If these Lien Quan generals are in the hands of gamers who know how to play and take advantage, then "win or lose at SP" is real. Hopefully this article will help you have a specific, accurate and objective view of the role and strength of these cards.
Don't forget to follow MGN.vn to update the hottest news about Lien Quan Mobile.