NPCs are an integral part of many video games, including Minecraft. With the Mods below, your NPC will be 'upgraded'.
Most video games are designed with NPC characters to interact with the player, or to act as a bridge between the player and the plot. In other words, NPCs are an integral part of many games, including Minecraft.
And if Minecraft's existing NPCs can't satisfy you, here are Mods to help solve that problem.
>> MORE: Minecraft: 5 rarest armor equipment version 1.20, 1st place only 1.2%
#3. NPC Variety
With this Mod, players will be amazed at the clear difference between Villagers and Pillagers mods. NPC Variety provides 8 skin tones and 5 eye colors for Villagers, helping them to become spectacularly 'toned' with biomes.
On the contrary, it also adds some variations that make people look more 'horror' than ever.
#2. Minecraft Comes Alive
The purpose of this Mod is to bring new life to a world.
Minecraft Comes Alive completely overhauls NPC mechanics, providing new ways for players to interact with them. Including the ability to build relationships, get married, and even have children, the kids will eventually grow up and help you with quests.
#1. NPC Doctor Who
Doctor Who is one of the most watched sci-fi movies of all time. And that's why the Doctor Who NPC mod must be ranked at number 1.
It's great because thanks to this Mod, players will have "close contact" with the 9th, 10th and 11th Doctor of the aforementioned cult series. Basically, the Doctor Who NPCs do not have much different actions from the original NPC of the game, but it attracts in the value and popularity of the sci-fi movie.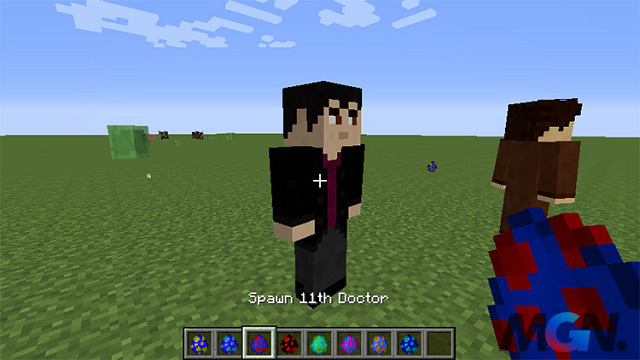 In order not to miss the news about the game village and domestic / international Esports in general, don't forget to follow MGN.vn regularly!