The quality of experience that these seeds provide will certainly not disappoint Minecraft gamers.
Simply put, Minecraft seeds are the codes that make the game more alive and full of life. And here are the most unique seeds of this game.
>> MORE: Minecraft: Top 3 Best Space Mods to experience in Summer 2023
Two Shipwrecks… On The Same Island (Seed: 7777777777988733304)
This is definitely the ideal seed for players who love pirate themes or something like that. You will appear on an island. There was a shipwreck here and the ship is still intact. Along with that, another ship was also in the same condition.
Exactly, you've just been born on a beautifully shaped island with two ships almost intact at both poles. The loot in these ships are typical game items.
Blacksmith Village (Seed: 1881644557)
The player will spawn in a village within the Spruce Forest biome. There are countless houses here, and next to the village there is a wonderful ravine. Notably, this Seed 'gets points' because every Villager here is a Blacksmith. This is really a favorable condition for players to farm loot such as weapons, tools and iron armor… from trading with these Blacksmiths themselves.
Heart-Shaped Desert Lake (Seed: 5742613388566557154)
This is a seed with a 'cute' terrain, specifically containing a heart-shaped lake in the middle of the Desert and of course it is very rare. Players can see this lake as a unique place, highlighting the whole. In addition, this seed also provides a large desert biome with many things that the player can exploit.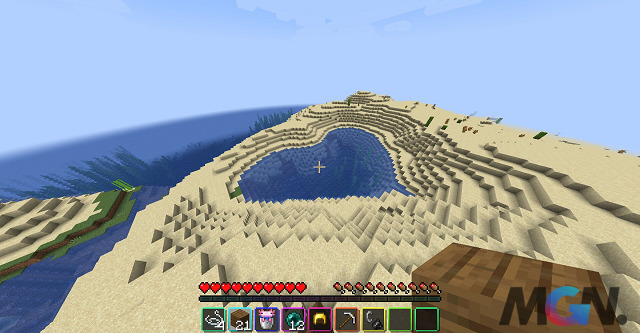 Heart-Shaped Wooded Biome Within A Mesa Biome (Seed: 110918009997)
The player will appear in a unique terrain, a large heart-shaped forest biome, surrounded by another biome called Mesa. Especially inside there is a large Mansion. Moreover, the surrounding is adorned with some very prominent mushrooms.
The possibilities of this seed are endless, as the player can create unique structures in this heart biome, such as establishing a solid survival base.
Don't forget to follow MGN.vn regularly to update the most interesting and new content about Minecraft!