Knowing this tip will make it simpler and faster to farm resources in Minecraft Legends.
Resources like Iron, Coal, Diamond, Redstone,… are very important in Minecraft Legends because they are used to summon mobs. Woods and Stones are relatively easier to find, but other things can be quite difficult to find in the early stages of the game. Towards the end of the game, most players will want to stock up on their resources as they take on various bosses in Minecraft Legends and take down the higher level Piglin Outposts.
Therefore, grasping the little tips that the game does not cover in detail will make this process easier for gamers who have difficulty knowing where to find Iron in Minecraft Legends, as well as the different types of iron. other resources.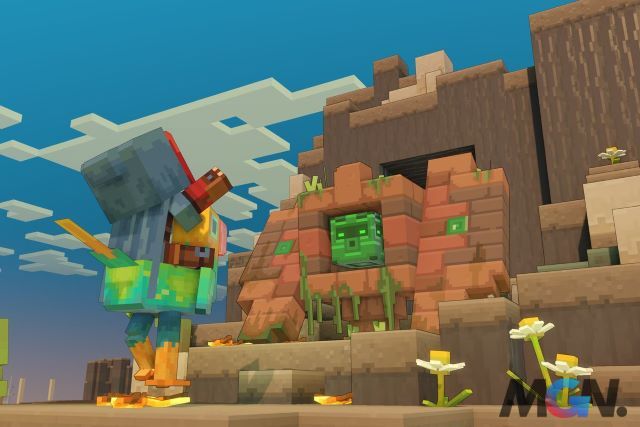 The game will tell players where these resources usually appear in Minecraft Legends. For example, Diamonds can be found in Mountain and Tundra biomes, while Iron can be found in Fatelands, Forests, and Dry Prairies. This still involves the player relying on Chests found in the Village areas or hoping to find an Allay Chest, and if not they can search the high and low areas for loot. collect these resources. However, no matter what a player's generated world looks like, there is a guaranteed spot for all types of resources in Minecraft Legends.
Each village in Minecraft Legends is surrounded by the types of resources their chests yield, which means players can quickly travel to these areas and run around the outskirts of the village to get fast. Quickly gather resources.
When looking at the Minecraft Legends map, players will see many different villages in their world scattered throughout the Overworld. Players should protect these locations as they can often visit these places to 'loot' items instead of destroying it, but this trick has many more benefits.
>> MORE: The world famous song in the 80s – Toto Africa was suddenly recreated in Minecraft
You can look at the Village area on the map and it will reveal the resources generated from that village, but specifically you won't be able to tell how much is in the chests until you open them. go out. Some Minecraft Legends structures will require a lot of resources, such as the Redstone Launcher, so gamers should find reliable locations to get resources quickly.
In the illustration above, the village in the map has the strength of creating a lot of Diamonds. Villagers Chests not only spawn these resources, but players can also find large amounts of Iron, Coal, Redstone, and Diamonds by running around the outskirts of villages. Players don't have to go far, just hang around and loot the resources they need. This makes finding these resources much easier and faster.
While the player may not have a hard time with resources in the early and mid-game of the game, the challenges that follow will consume more than the gamer can expect. However, this tip will somewhat ensure players are always prepared, especially with the right resource improvements in Minecraft Legends.
Don't forget to follow MGN.vn to update the latest news about the game right now!