Racing is always an exciting and dramatic sport, whether it's in real life or in the Minecraft world.
F1 Circuit de Monaco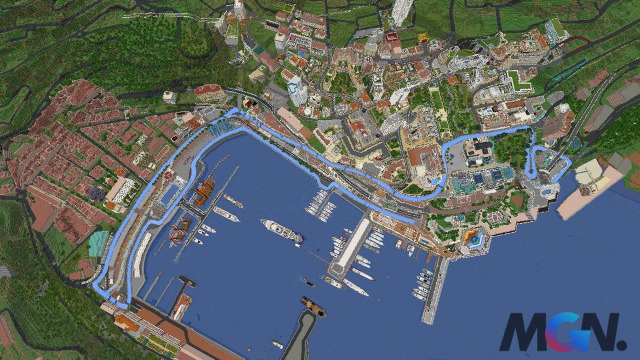 For those who may not know, the Monaco Grand Prix is ​​considered one of the most prestigious races in the world. Lightning-fast Formula 1 cars race through the posh streets of Monaco for victory. If you are a Minecraft gamer who is a fan of both sandbox and sports car racing, this is definitely one of the best racing maps.
The developer brilliantly created the entire track precisely and even built a portion of Monte Carlo around the track. In the overall picture, the effort of the map creator can be clearly seen.
>> MORE: Minecraft: Top 4 most unique maps for gamers to explore
Silverstone F1 race track
Silverstone is another historic F1 track recreated for Minecraft. This racetrack is located in the UK, with a rich history right up to its name. The same developer also created this route in a custom map.
The entire environment around the track is perfectly constructed, giving fans a true-to-life experience of the original circuit. This is a 1:1 scale replica of the circuit, which tells us how huge this map is.
Ice boat world
If the player Minecraft want many different types of tracks on one map, this is arguably the best custom map for them. In this huge world, the developer has created countless runways on which the boat can zoom. Different regions of the world have different racing environments and locations, giving the map variety.
This racing map has everything from narrow tracks through a small city to wider tracks through custom biomes.
Don't forget to follow MGN.vn to keep up to date with the latest and most interesting information!