BLG once again "came up" at MSI 2023, knocking out the final LCK opponent T1 to turn the MSI grand final into an LCK civil war that made Uzi chuckle.
The result of BLG 3-1 T1 in the final of the MSI 2023 losing branch was like a huge slap on T1 fans in particular and LCK fans in general. LCK fans, after witnessing the weakness of the defending champion LCK GEN, believed that T1 was the "last hope" of this region, but they only did a little better than GEN when they got an honorable victory against the runner-up. LPL – BLG.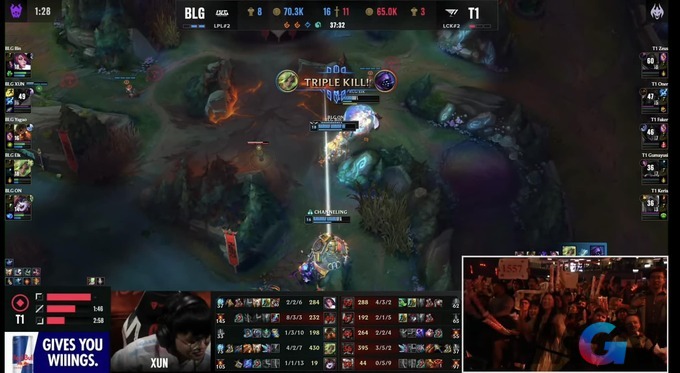 There are too many reasons mentioned by LCK fans, the most are probably ban-pick, some people blame Oner for not protecting the bot lane, others think that Bin out submitted Zeus too far. But in the eyes of a professional like Uzi, there is only one reason: "T1 lost because of poor skill, it has nothing to do with pick-bans, I have never seen an LCK team hit and get beaten to the point of being beaten. like this, I confirm that T1 lost because of poor performance, I didn't expect that one day they would lose because of 2 bad words, their strength is really inferior to people. I've never seen Korea beat like this, bet Either way it's bad, there's no way an LCK team can play like that."
Indeed, compared to the day of the match against JDG, T1 has made a lot of progress in picks and bans, but that just proves that they don't lose because of picks and bans. T1 still hasn't dropped the old strategy when the Oner ganked to the top with Zeus and almost evenly divided the resources among the positions. Meanwhile, all 4 games of BLG played only one card, ganking the bot lane right from level 1 with Xun ready to use the turret to take advantage of the fast-growing Elk. Even Elk is given most of the resources to reach the power threshold as soon as possible.
With Keria – Gumayusi being pressed to almost "hole" in the bottom lane, the ADC could not keep up with Elk on the other side. Meanwhile in other lanes, T1 also did not have a big victory, which created a sporadic battle, it was difficult for a wombo combo to be created by T1 even though T1 was previously highly rated for teamfights.
With this result, the LCK has completely disappeared at MSI 2023 with very weak results. LPL is once again taking the lead at MSI. Regardless of the outcome of the match, the cup will still go to the LPL, but with the pride of the LPL Champion team, JDG will not give in and with the dismissal of both Champion candidates from the LCK, BLG will not back down. step.