Hayao Miyazaki is an influential filmmaker not only in the country but also in the world. Studio Ghibli, which he co-founded in 1985, has produced 22 films, of which five, Spirited Away, Princess Mononoke, Howl's Moving Castle, Ponyo and The Wind Rises, all made the top 15. highest revenue in the US. Japan since then. In 2013, Hayao Miyazaki announced his retirement, but in 2017, he returned with another film called How Do You Live?, promising this will be the last film. Up to now, the film is almost completed ahead of schedule.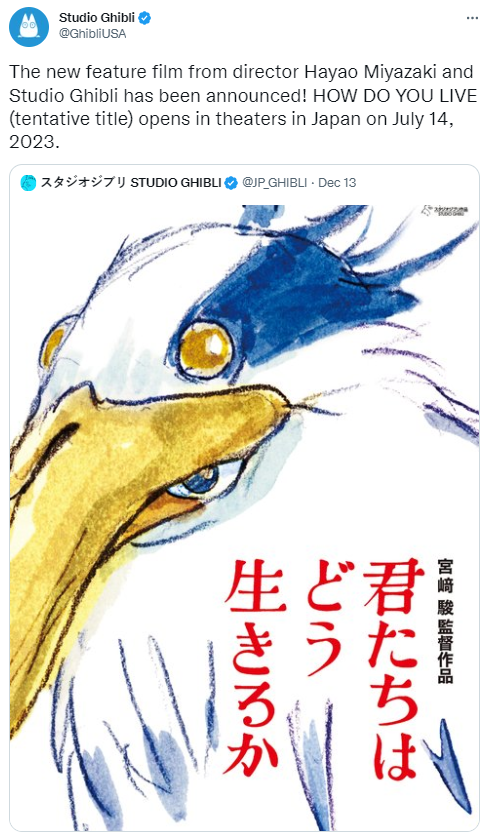 The announcement included a sketch of a bird, sparking the imaginations of millions of Studio Ghibli fans around the world.
As reported by The Film Stage, Studio Ghibli president Koji Hoshino has informed fans that the upcoming film is titled How Do You Live? going very smoothly. Back in October, Hoshino did not reveal an expected release date for Miyazaki's final film. "We are still hand-drawing everything. The film will take a long time to complete because we are drawing more frames," said producer Toshio Suzuki.
However, just two months later, on December 13, 2022, Studio Ghibli's Twitter accounts in both Japan and the United States announced that the film would hit Japanese theaters in mid-2023. The announcement included a sketch. of a bird, sparking the imaginations of millions of Studio Ghibli fans around the world.
How do you live? assembled an animation team larger than any other film Studio Ghibli has ever produced. "When we made My Neighbor Totoro, we only had eight animators," said Mr. Suzuki. And Totoro was completed in 8 months. With the current film that Hayao Miyazaki is working on, we have 60 animators working together, but in a month only completed one minute of content in the film."
Is this really Miyazaki's last film?
Although how do you live? has been confirmed to be Miyazaki's last film before his convalescence, but this isn't the first time fans have heard that Miyazaki has announced his retirement. The director announced his retirement in the late 1990s. However, he returned with the 2002 film Spirited Away (Vietnamese audiences used to call it Spirited Land) in 2002, which won an Oscar. for Best Animated Feature Film that year. To date, Spirited Away has become the first and only non-English-language animated film to win this award.
Later, Miyazaki announced his retirement once again to assist in the planning of the Studio's first CG film, Ghibli Earwig and the Witch. Miyazaki's son Goro will direct the film. In 2017, Studio Ghibli announced that Miyazaki would "return" for the last time with the movie How Do You Live?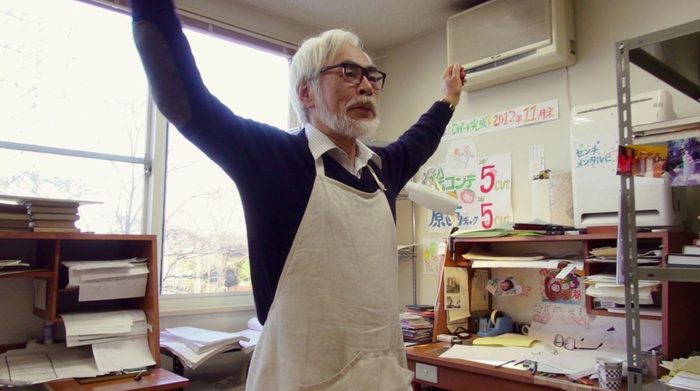 Miyazaki has repeatedly announced his retirement, then reappeared with new works.
How do you live? Production began in October 2017. It is an adaptation of the 1937 novel of the same name by writer Genzaburo Yoshino. In October 2021, the novel was first translated into English with a preface written by Neil Gaiman.
The film tells the story of the main character, Copper, a 15-year-old boy who is facing the death of his father. He hangs around with a lot of big thoughts and questions about life. How many people are there in the world? How are their lives? Are humans really made of molecules? The book revolves around Copper's story and his uncle's diaries, in which the uncle gives advice and helps Copper understand more about how the world works.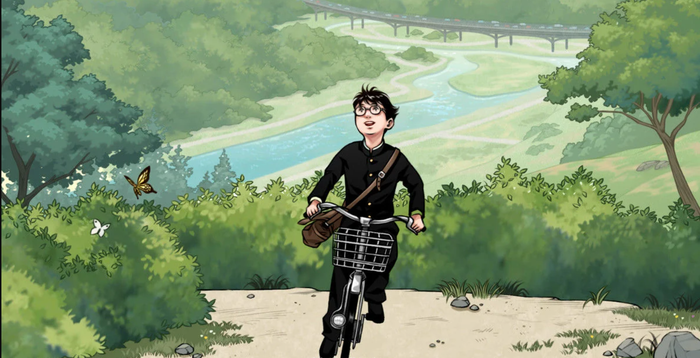 Some stills from the movie have been revealed.
Miyazaki still works very hard even after announcing his retirement. Besides collaborating with Lucas Films for the short film Baby Yoda, he also continues to exhibit his work at the Studio Ghibli Museum. Recently, Studio Ghibli built a theme park based on Miyazaki's works in Aichi Prefecture. Fans across the country are eagerly waiting for this movie. This could be the final legacy of one of the greatest animators of the time.
Original post: https://gamek.vn/hoa-si-da-tai-hayao-miyazaki-sap-hoan-thanh-bo-phim-cuoi-cung-truoc-khi-nghi-huu-178221219180324978.chn
Original Post: https://otakugo.net/nghe-si-da-tai-hayao-miyazaki-sap-hoan-thanh-bo-phim-cuoi-cung-truoc-khi-nghi-huu-117878.og
Website: https://otakugo.net/