After the new face of the Darkin family – Naafiri just aired, players have been constantly teasing and guessing about the next Darkin element that will enter League of Legends.
It can be said that one of the most curious and favorite races of players in League of Legends is Darkin. The generals from this tribe are all extremely strong and have a larger fan base than humans. The common feature of the Darkin generals is that they are all extremely angry and blackened. In addition to the magical and attractive beauty, they also possess a remarkable strength, causing players to have a headache every time they face them.
In the main plot of League of Legends, After the bloody battle that took place since the Darkin War, there are only 5 Darkin left on earth, but all of them have been sealed. These are considered the 5 most powerful darkin up to the present time. After that event, there were 3 Darkin awakened and returned, there were also three generals Aatrox, Varus and Kayn in League of Legends. The remaining two Darkin generals have not yet appeared, making fans extremely curious and constantly creating debates to guess.
MORE: League of Legends: Riot promises to rebalance the ADC problem in 13.14
However, recently, Riot Games has also officially revealed the next Darkin general to enter the arena League of Legends, This is the first Darkin champion to have a female gender and appear with a monster body. That is Naafiri, this female general will air the game on the upcoming 13.14 version.
After 4 Darkin generals of League of Legends gradually revealed, the community is constantly debating and guessing about the identity of the next face of this race. According to veteran gamers, these 4 Darkin generals have respectively taken over 4 positions, Top, Mid, Jungle, Gunner, the last champion is intended to be a battle support.
SEE ALSO: Unusual League of Legends: Sett became a hard counter for Magic Shield because of this bug
Some fans have suggested, it's most likely the champion Joral – a very good character Aatrox worship, and appear many times through his lines.
On the contrary, some gamers think that it is xolaani – a Darkin general with the power of a mage or Valeeva – who was once mentioned by Varus.
However, a few people mentioned that if there's only one Support left, there's no better one Horace, In the card game, this champion is also labeled sp, so she is the best fit.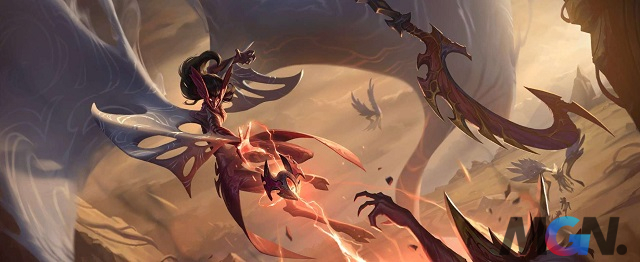 These 'Darkin' faces are all present in Runeterra's title Riot Games. Chances are, in the not too distant future, the publisher will bring them into the arena League of Legends as a full-fledged general.
Don't forget to follow MGN.vn every day!