The recent move of ProE and Yiwei caused a stir in public opinion. If ProE got angry and constantly questioned, Yiwei completely kept quiet, attracting many people's attention.
DTDV Spring 2023 has gone half way and gradually revealed bright candidates for the Shield of Fame. Besides the "rise" of HQ or HEAVY, the stable and solid performance of Saigon Phantom, TDT also received special attention. However, contrary to the performance and achievements, the "Red Devils" became famous on social networks because of the "blockbuster contract" when successfully recruiting two players who said their retirement was ProE and Yiwei.
See also: "Red Devils" TDT "lost the chain" despite owning "blockbuster" contracts with ProE, Yiwei
In addition to having both said goodbye to their playing careers, both are known to be popular players with "not-so-average" performance. Returning to a competitive career when re-appearing in the second leg of DTDV Spring 2023, the appearance of two popular players was still not enough to help TDT improve its performance on the rankings.
Accordingly, the "Red Devils" still faced goals against even weaker opponents when they lost to HQ with a score of 1-3. The lackluster re-appearance of Yiwei and ProE did not help TDT improve the situation when it stopped in 5th place overall.
Worth mentioning, this position of the "Red Devils" was beaten as "relegated" much more than the previous season. In the 2022 Winter DTDV, TDT is considered a formidable "dark horse" when ousting Team Flash out of the top 4 finals to participate in the important final night. Before the expectation of the audience, recently, the video of ProE and Yiwei has received special attention from the audience.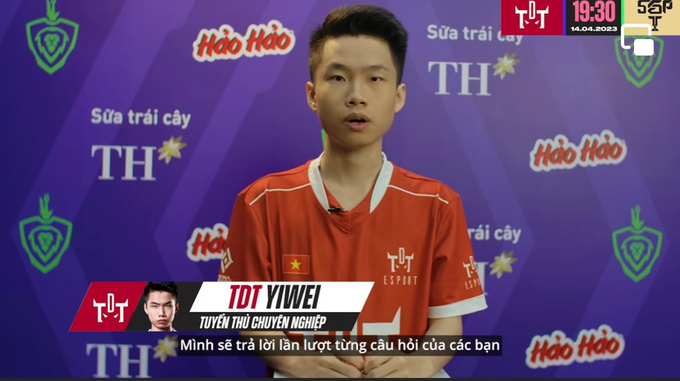 However, if Yiwei was silent from beginning to end, ProE kept getting angry and expressed his frustration. ProE shared: "You guys just sit there and attack, thinking that it's easy for a player. How many expectations and pressures are placed on us. It's just a matter of starting a war and making trouble? Are you kids? "
Currently, ProE's sharing has received special attention from a large audience. However, it is undeniable that the return of ProE and Yiwei has not satisfied the audience. Especially when TDT owns 2 "blockbuster contracts" that used to "rogue" in the village of Lien Quan Mobile Viet.