While the noise at VCS has not subsided, the recent statement of the media manager SE continues to once again "blowing up" controversy in the Vietnamese LoL community.
Recently, the VCS tournament took place and received special attention from many netizens. However, unlike the developments as well as the fiery matches of the teams, this year's season has consumed a lot of media ink because of the noisy series related to SE. After the cancellation of the match schedule, SE "sliding" in a series of selling rumors that made fans "stand still". While this noisy series has not shown any signs of abating, the media representative of SE continues to cause a series of controversies on the social network.
Accordingly, from teasing Cerberus Esports' "12-person media team" to the farewell article Slayder as well as finding out "SE 70% go to Worlds". The incident continued to climax when the message from SE's fan group chat was widely shared on social networks. Specifically, the SE side, although there were no big transfers before VCS, was still believed to be based on the situation of the remaining teams. In particular, the media representative of SE said that the teams at VCS are facing difficulties.
Specifically, this person thinks that Cerberus Esports is out of money, so it uses all young players, and Team Secret is also struggling through the final season. In addition, Team Flash is also said to be in a similar situation when there is no improvement in the lineup. Worth mentioning, the media manager of SE also expressed that "getting bored with the Vietnamese LoL community". Even with the noise related to SE at VCS in the past time, this person also left open his intention to invest in Lien Quan Mobile.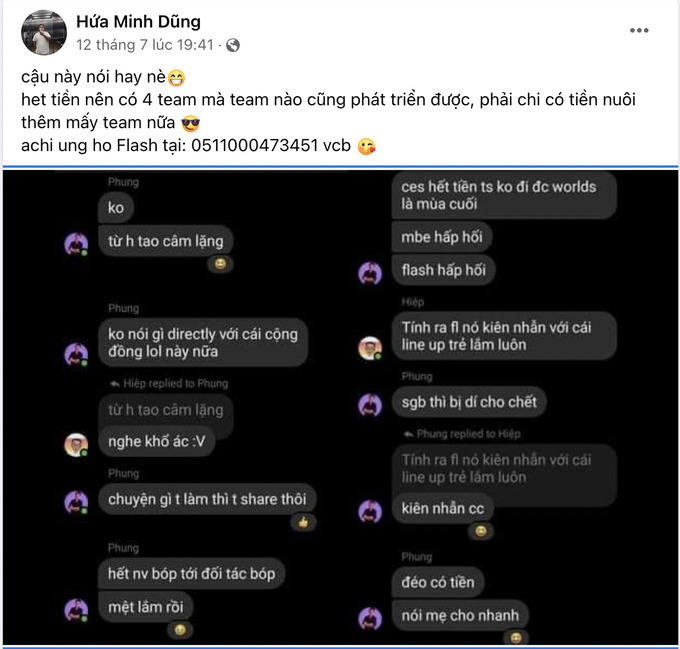 Immediately, this incident received special attention from a large audience. In particular, Team Flash's manager quickly spoke up when his name was called out. Team Flash's head of communications denied that the team ran out of money, and confidently claimed to be heavily invested. In fact, last season, Team Flash successfully recruited a series of former CES players such as Puddin, Jane, Phuc1 with a small amount of money with a transfer cost of hundreds of millions of dong.