After leaving STBC Esports, super ADC Slayder has found a new destination, GAM Esports – the defending champion of VCS Spring 2023.
On the official facebook page of GAM Esports has just announced the addition of ADC Nguyen "Slayder" Linh Vuong to his team and also the first transfer contract before the VCS summer 2023 of the defending champion. League of Legends in Vietnam.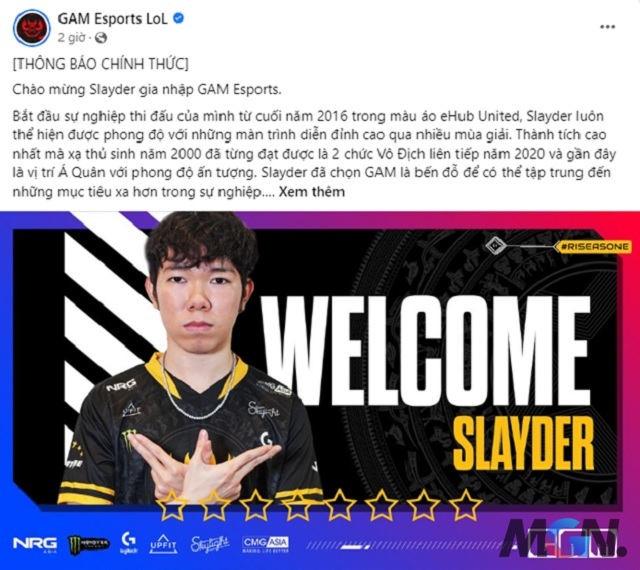 As we know it, Slider said goodbye to the team STBC Esports although the contract period is still 6 months. A lot of speculation about the next stop of the young sniper Slayder and as many predicted, GAM Esport is the team that the "blockbuster" Slayder will play in the upcoming VCS summer 2023.
SEE ALSO: SBTC Esports was extremely disappointing when writing farewell to Slayder
At the same time, GAM Esports said goodbye to former ADC Mai "Sty1e" Hoang Son not long ago. Not only that, GAM also offered to buy Tran "Artemis" Quoc Hung (Cerberus) and Nguyen "Shotgun" Van Huy (Saigon Buffalo) but failed for many other reasons.
Slider is considered by the Vietnamese League of Legends community as one of the best ADCs at the moment with a very good team-carrying ability, during his playing time Slayder won 2 VCS ​​Spring and Summer championships. Summer 2020 when defeating GAM itself in both finals with a score of 3-2. Nguyen "Slayder" Vuong Linh is a talented and ambitious guy. His next goal is to join GAM Esports to win VCS Summer 2023 and win tickets to the 2023 World Finals, thereby showing himself for the first time on the international stage with the addition of Slayder into his squad, GAM hopes to achieve better results in the near future.
Don't forget to follow MGN.vn to update more new information about VCS!