Before the rumors about SofM becoming the Vietnam League of Legends coach at the Asian Games in Hangzhou, the Chinese fan community had extremely humorous shares.
Up to now, the 2023 League of Legends Summer Split in regions such as LPL, LCK or VCS has closed the schedule, this is also the time when fans are curious about what the future of SofM will be after a break. Many opinions expect this player to return, but so far there has not been any noticeable move.
Recently, on the VCS English fanpage, it was suddenly announced that SofM will become the coach to lead the Vietnamese League of Legends team to the 2023 Asian Games in Hangzhou, China. The roster will include players like Kiaya, Levi, Kati/Dia1, Slayder, and Palette.
Quickly this information made people stand still, it is clear that with the impressive playing experience of the LPL, it is not too difficult to understand that SofM can take on this role. The guy has a lot of experience, the ability to pick and ban. However, many fans feel regret when SofM does not play.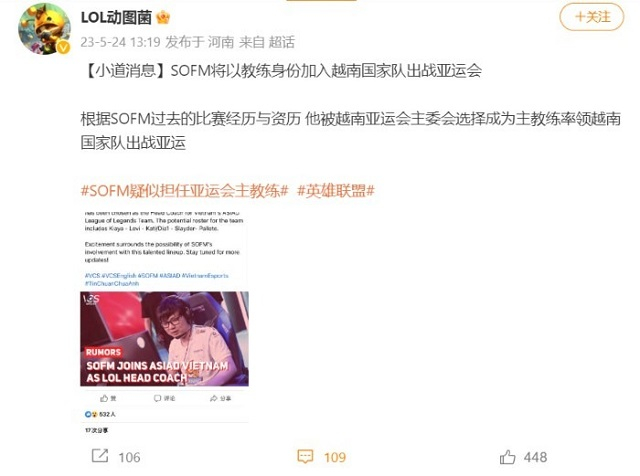 As a player who used to play in the LPL, as soon as the news reached Chinese fans, like Vietnam, many comments expressed regret that SofM could not return to the LPL right in the Summer of this year. There is also an opinion that SofM has high expertise and a series of humorous comments:
"Is there a time when SofM will be the head coach to warm up and hit me?"
"If a player doesn't play well, the coach comes out."
"If that's the case, SofM won't play anymore, it's a pity."
"After years of making money playing, this is the time when he can become a coach to help the players become richer"…
Photo: Synthesis