It turns out that Gumayusi's build is a very unique trick for ADCs, especially Jinx, which is being applied by many players at MSI 2023.
At MSI 2023, viewers witnessed a series of prioritization of carry ADCs like Jinx and Aphelios, in the "best of all" meta like Gumayusi's. It is worth mentioning that the equipment of these two generals has many similarities that many people can easily recognize.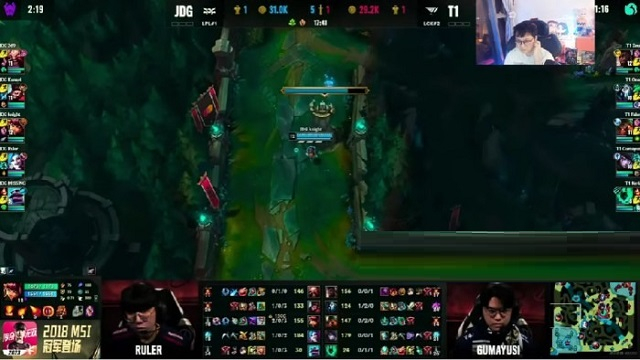 For Aphelios, it can be seen that Mythical equipment is always preferred as the Wind Spirit Bow, and Jinx is the Marrow Killing Hooks. Temporarily abandoning the next equipment competition shoes that are often favored by players is the Double Sword. However, the ADC does not upgrade this item into a complete equipment, but keeps it the same. Then there is the priority to finish the third dish first.
There was an interesting situation that happened when Cloud9's AD carry Berserker questioned how to build this item and asked Gumayusi. But the answer he received from ADC T1 really brought many surprises. Specifically, he said: "Why do I always buy Dual Swords after I equip Jinx Myths, because Ruler does that".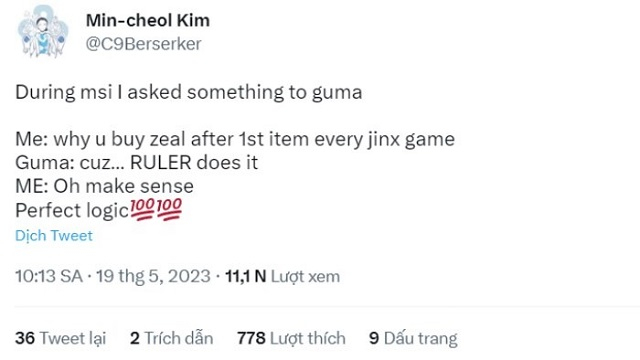 Accordingly, Gumayusi believes that it is necessary to follow an experienced elder and Berserker himself also supports this view. However, it was not until SofM spoke up to explain in detail what Vietnamese fans understood about "tricks".
SofM said: "Dual Swords is a very powerful base stat item with a price of only 1050 gold. With Attack Speed, Critical Rate and Movement Speed, the real value of this item far exceeds the base money. However, if you upgrade early to Cannon City or Runaan's Rage, it will not be profitable anymore. Therefore, players often leave it and prioritize the next item."
But there is a note that this tip is only applied in version 13.8 in MSI 2023 only, and currently the ADC equipment group has had many changes when entering version 13.10 so players can no longer be able to play. Take advantage of the way to equip the above equipment.
Photo: Synthesis