Recently, Square Enix has also joined the trend of applying AI to the game field and their product this time is a detective game.
Square Enix recently announced they're using AI ChatGPT to create a brand new detective game called The Portopia Serial Murder Case. This game is made by Yuji Horii, the creator of Dragon Quest game and it is the game that was launched on the NEC PC-6001 platform in 1983. Different from the usual game remake methods, in addition to being improving image quality and increasing content density, Square Enix called it an 'AI demo' and thus became Square's first NLP-powered game. Enix.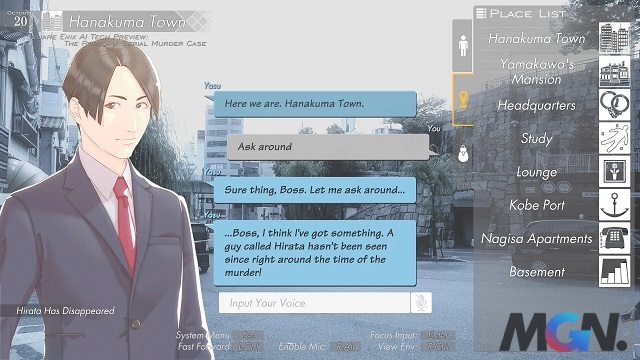 The way the game works is basically similar to the famous AI ChatGPT, and with the help of NLP, this game will be able to understand the intentions and behavior of the player and from there make the different interactions.
AIGC's creativity has allowed game makers to hope for a future that can break out of the frameworks and ways of building storylines and game content. Square Enix has been researching and developing Web 3.0 for the past two years with the hope of being able to create a new form of entertainment with the help of technology from AI, blockchain and other emerging technologies. Of course, the company will not ignore AIGC (content generated by artificial intelligence through available data).
There are many famous products that have been born with the command-entry ADV genre, and The Portopia Serial Murder Case by Yuji Horii is one of the most prominent titles in this genre. In addition, there is WILL THE DEATH BAP II also developed by Square Enix.
>> MORE: Pocket the strongest lineup for newbie Honkai: Star Rail
Coming to The Portopia Serial Murder Case, players will be playing the role of a police detective called Boss by his subordinates and will have to participate in the investigation of the murder case of Kozo Yamakawa, the president of a financial company. The case gradually became more complicated and developed into a serial murder case. The extremely condensed, winding plot and character shaping make this product one of the pioneering titles in the detective game series.
Don't forget to follow MGN.vn to update the latest news about the game right now!