Version 13.19 of TFT has brought many changes to the meta game, and using "Big Brother" Sett can be a strong choice to successfully climb the ranks.
In version 13.19 of DTCL, "Big Brother" Sett is returning with a power that cannot be ignored. With a significant top 1 and top 4 ratio, this squad promises to bring strong rank climbing ability. Below is a detailed guide on how to use this formation to achieve high performance in DTCL Please.
The "Big Brother" Sett squad focuses on building a strong Gladiator squad. The basic squad includes: Sett (main general), Warwick, Nautilus, Darius, Jhin, Ashe, Xayah.
The "Big Brother" Sett squad relies on leveling up on schedule, then performing the slowroll process at level 6 with a frame of 4 Braves and 2 Conquerors.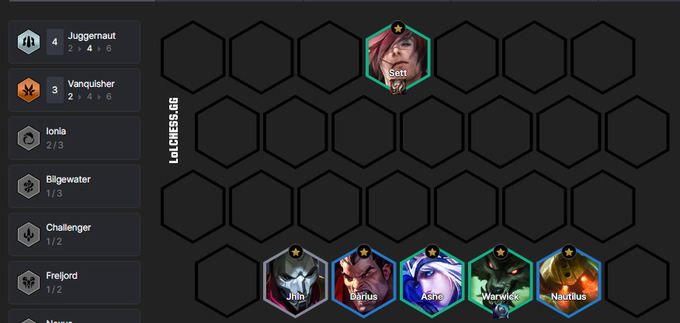 Prioritize equipping Sett as soon as possible, while Ashe and Jhin can keep their Physical Damage items to contribute in the backline. Sett and Warwick are two generals that need to be upgraded to 3 stars as soon as possible, the remaining factors are not too important.
>>See more: TFT Season 9.5: Teams that make the most of Orrn equipment
When you achieve your goal, level up to level 7 to find more Xayah to complete frame 4 of Conquest. At this point, you can switch equipment to a 4-cost general to act as an extra carry in the later stages. 3.
Equipment is an important part of the success of "Big Brother" Sett's squad. Below are important equipment for the main generals:
Sett: Colossal Power, Hextech Gun Sword, Dark Scythe
Warwick: Resistance equipment
By following this lesson plan and performing the steps above, you have a chance to climb to the top of your rankings DTCL with the "Big Brother" Sett squad. Wishing you luck and fun when experiencing this squad in version 13.19 and don't forget to follow MGN.vn to update the latest information!