The Zeke Storm Capacitor meta is becoming a popular trend in TFT season 9. The special thing is that this gameplay can be applied flexibly in many different tactics and formations.
DTCL Season 9 has given players a lot of variety in the selection of the lineup. However, it is worth noting that Zeke Storm Capacitor is being used very commonly in matches. This is not surprising given that this item is in the current meta and has a win rate greater than 65% according to lolchess.gg statistics. Even, Zeke Storm Gathering is more popular than Guinsoo's Rage Blade and Infinity Sword.
The reason why Zeke Storm Capacitor is popular in DTCL Season 9 This is because it is suitable for many different squads and champions. In particular, it is very useful for long-range champions that are capable of dealing damage according to hand attacks and champions with a set of moves that increase according to Attack Speed ​​like Garen.
Tribe of Targon – Aphelios
Aphelios is a 4 money champion with a very strong carry ability and is considered one of the strongest champions in the current 4 money lineup. With his impressive damage ability, Aphelios becomes difficult to take down when there is a line of tanks strong enough to protect him, regardless of whether it is Zeri or Kai'Sa.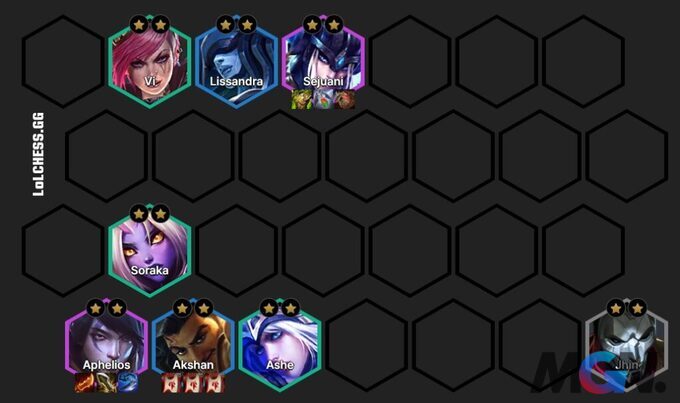 Most players think that Guinsoo's Rage Blade is an indispensable item for Aphelios, along with two other dame items. Attack speed is an important factor for this champion. Therefore, the gameplay with 3 Zeke Storm Capacitors is very suitable for hand dame champions like Aphelios. When combined with Marksman, Jhin, Ashe or Akshan, these champions will also benefit from Zeke and Aphelios. At that time, Aphelios will deal an extremely large amount of continuous damage, especially on the back line thanks to Marksmanship.
It is common to pair Aphelios with Marksman in a formation containing 4 Brave or 4 Gladiators to create resistance and hold the opponent while the backline deals continuous damage. If Aphelios is killed too soon, marksman champions no matter how well they build will be easily defeated immediately by the huge amount of damage from the opponent.
>>See also: League of Legends: EDG is in trouble when it can't grasp the new version after the failure in the LPL
Sniper clan – Zeri
When it comes to Aphelios, it's impossible not to mention Zeri because both of these champions have similar playstyle and carry ability. Both Aphelios and Zeri are capable of continuous damage and need the support of a tank in front for protection.
In particular, both of these champions rely on attack speed rather than a vaporizing move like Kai'Sa. When playing with Zeri carry, we can apply the same gameplay as Aphelios. However, Zeri has an advantage over gaining bonus attack speed every time Jayce uses an ability. Therefore, Jayce will be the one to bring 3 Zeke Storm Capacitors to increase damage and ability to cast faster. This makes playing Zeri Sniper more useful than Aphelios Sniper.
However, for now, Tristana Sniper gameplay combined with Zeri's presence in the core squad is also a better choice than Zeri Zeke, thanks to Tristana's Hextech Gunblade healing. You can also change the selected gameplay to avoid boredom and bring a new experience.
>>See more: League of Legends: Coach Bengi is not satisfied even though Oner won the title of 'Player of the Match'
The Heroic Race – Garen
Garen is one of the few champions whose abilities increase with attack speed. So, when building a team with Garen as carry (like Demacia or Hero), Zeke Storm is great for boosting his attack speed. In addition to basic items like Guinsoo's Rageblade, Bloodsword, and Colossal Power, Zeke Storm Condensate helps Garen become stronger with higher attack speed.
This playstyle also benefits champions with 3 Zeke Storms, thanks to their attack speed and bonus AD (Damage Per Skill) from items, along with the amount of health Zeke provides. For example, Jarvan IV can use 3 Zeke Storm Capacitors in combination with Galio to power up and have the ability to continuously stun due to faster mana growth.
In addition, Garen can also combine with the Hero and with Darius to form a squad to destroy the opponent. In this lineup, Garen will still be the main carry, while Darius will carry 3 Zeke Storm Capacitors for extra AD. Garen and Sett will take on strong offensive roles. Although there are not as many controls as in Demacia, this squad is still quite stable in terms of resistance and damage. Please follow MGN.vn page to update more latest information!